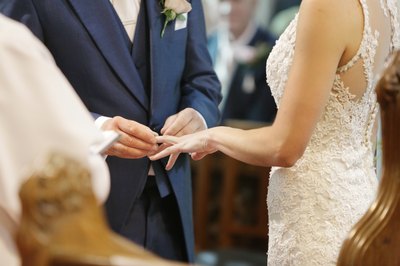 It takes more than love to get married. According to The Knot's 2018 Real Weddings Study, Americans spend approximately $33,931 on their weddings. However, the couple doesn't need to compromise all their savings, and it is possible to save a considerable amount of money if they are flexible with dates or choose a nonconventional time for their wedding ceremony.
Scheduling a ceremony and a reception during off-peak months or days helps the couple to find better deals. Because of the lower demand, service providers are more willing to negotiate prices. It will also benefit the guests who don't live in the same city because they can find better deals on tickets and hotels.
Off-Peak Months
Usually, one of the first decisions the couple makes after the engagement is the wedding date. According to the WeddingWire 2018 Newlywed Report, 72 percent of weddings happen between May and October. Of course, choosing to get married in that period means the prices might be higher than in other months.
A recent survey from Student Loan Hero revealed that 80 percent of couples planning to get married in the coming 12 months are open to choosing a less-popular day of the week or off-season month for the wedding if it means they will save money. Scheduling a wedding between November and April will increase the chances of finding better prices for photography, decoration and other services. However, a ceremony held on holidays like Thanksgiving, Christmas and New Year's Eve can be just as expensive as in June.
Off-Peak Days
The day of the week on which the couple chooses to tie the knot also has an impact on the prices they will pay. According to The Knot's wedding study, 70 percent of weddings take place on Saturday. The day seems perfect since it will give enough time to the guests traveling to the wedding location, and they will still have Sunday to recover. Due to the high demand, the prices are also higher on that day. Since fewer people are looking at other days of the week, the couple will find more options when they are looking for a reception place, and they will also find better prices for services.
Off-Peak Hours
The simple decision of picking a time for the wedding can increase or drop the total cost. Choosing an afternoon during weekdays or even a Saturday brunch can help the couple to save some money. Also, if the reception happens during the day, the guests are more likely to drink less than if it was held during the evening. Before closing the contracts, the couple should also be aware of the fines the service providers charge for extra hours.