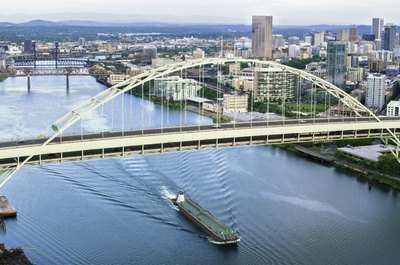 When it comes to deciding where to live, proximity to work and family is a deciding factor for many people. For others, living in a desirable area and enjoying a good quality of life is most important. U.S. News & World Report has compiled a ranking of the best places to live in America, based on factors like affordability, the job market, cost of living and quality of life. It's probably no coincidence that the top locations on the list feature beautiful settings.
Discover Weirdness and Wilderness
Portland, Oregon has become famous as the home of hipsters and eccentrics, many of whom have adopted the unofficial city motto "Keep Portland Weird." Beneath all the fun is a friendly city built on the edge of the Pacific Northwest wilderness, offering access to two mountain ranges and the Pacific Ocean. The city is home to several major sports teams, including the Portland Trail Blazers, and has a transit system that allows you to navigate most of the metro area without a car. The 2018 population of Portland was about 2.4 million, and the median home was priced at $349,675.
Escape to the Ozarks
Fayetteville, Arkansas is located in an area of Northwest Arkansas that has seen rapid growth due to the presence of major corporations like Walmart and Tyson Food. Nestled in the Ozark Mountains, the area is a magnet for outdoor enthusiasts. The city is also home to the University of Arkansas, a performing arts center and live music venues. In 2018, the population of Fayetteville was just over 500,000, and the median home price was $182,508.
Call the Mile High City Home
Denver, Colorado is nicknamed the Mile High City because of its 5,279-foot elevation. What was once a Wild West town has become a bustling city of 2.7 million people. Outdoor enthusiasts enjoy Red Rocks Park and Cherry Creek State Park, not far from downtown, as well as more than 5,000 acres of parks, trails and golf courses. For winter sports, the Rocky Mountains are only about an hour away. The city attracts millennials and singles, and a recent population boom has pushed the median home price to $362,492 in 2018.
Live in the Live Music Capital of the World
Austin, the capital of Texas, is famous for its dynamic music scene and festivals like Austin City Limits and South by Southwest. Evidence of the city's rich history can be found in the Capitol Building and the LBJ Presidential Library. The city is home to more than 250 parks and is surrounded by rolling hills that invite hiking, bike riding and other outdoor activities. About 1.9 million people called Austin home in 2018, and the median home price was $278,608. U.S. News & World Report calls Austin the top city in the country for beauty and affordability.