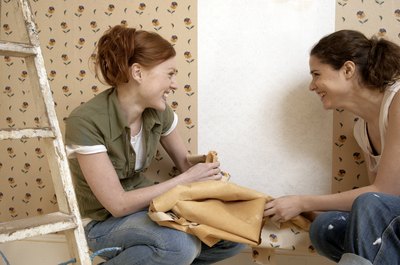 If you bought a fixer-upper, need to update your kitchen or would like to replace your flooring, you may be afraid to consider what it may cost. Many people decide to try to do the work themselves, which is a great option if you're handy and have the right tools. If the last time you installed a toilet paper holder ended in mayhem, however, remodeling is probably something that you should leave to the pros. Hope is not lost in that case; you can still stick to your budget if you put a good plan in place.
Gather relevant and local estimates. It's a mistake to think that you can set a budget based on generic formulas and guidelines. Prices may be substantially higher or lower in your area than they are in other parts of the country. Contact local contractors and ask them what their estimates are for the specific type of work that you need done.
Interview a number of contractors; ask for and check their references. While this step is time-consuming, it can save you from spending hard-earned money on shoddy workmanship.
Spread the word that you need to remodel on a limited budget. Chances are that a friend of a friend may know someone who can do the work for less money than a professional. If you can find someone to do even part of the work, this will reduce the amount of money that you'll have to pay a pro.
Go green. Not only will using energy-efficient appliances save you money in the long run, it may entitle you to an appliance rebate from your state government, utility company or even a federal tax credit. Even if you have to spend a bit more of your budget on greener materials, it may be worth the initial expense to save on utility bills in the long run.
Remain flexible. If your budget is set in stone, you will need to accept different materials than what you had your heart set on, or you might have to change your ideal plans. Placing a second bathroom in a different location than what you had planned could impact the price by as much as $10,000. If certain materials are high-priced in your area, compromise and go with another option to avoid breaking the bank.
References
"America's Cheapest Family Gets You Right on the Money;" Steve and Annette Economides; 2007
Photo Credits
Gary Houlder/Lifesize/Getty Images