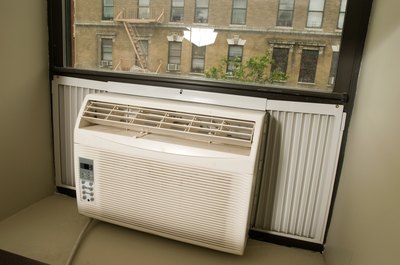 Several factors affect the cost of installing heating and cooling in your home. Labor costs vary from contractor to contractor, for example. The cost may increase or decrease depending on the brand of the equipment and the size needed. The current state of your house also affects the price you'll pay for the project. If you want to install a system that requires ducts but do not have them in your home currently, you can expect the cost to double, according to "This Old House" magazine.
Contact at least three licensed contractors to ask for bids. The U.S. Department of Energy recommends asking friends for recommendations and checking the references of any contractor. Each bid should include calculations for the cost of labor, information on the equipment and installation and a schedule of payments. The contractor should also provide you with a project end date.
Check to see if you need ductwork installed. If you are installing a new heating and cooling system in a house with forced air heat, you already have ducts installed. If you do not, you will most likely need to install them.
Determine what type of equipment you need. Price varies based on size and style. The size of the unit depends on the size of your home. A contractor can help you determine the size you need, according to "This Old House." A unit that is too large or too small will not cool or heat your home properly. Oversized units end up costing you more money to install and to run, as they power on more frequently. You also need to determine whether you want a split system or a packaged system. Packaged systems are located outside of the house and contain all components in one piece. Split systems are located both inside and outside.
Choose the type of fuel you want to use. The fuel options available depend on your location. For example, residents in the northeastern United States usually can choose between electric, oil or natural gas. The price of the equipment varies based on the fuel. Natural gas requires a furnace installation while electric heat requires a heat pump. The cost of using the fuel varies as well.
Tip
Check to see whether contractors you are accepting bids from are rated by the Better Business Bureau.
Warning
A poorly installed heating and cooling system can cost you more over the long run, as it needs to work hard to control the temperature in your home, according to the Department of Energy.
Photo Credits
Jupiterimages/Photos.com/Getty Images