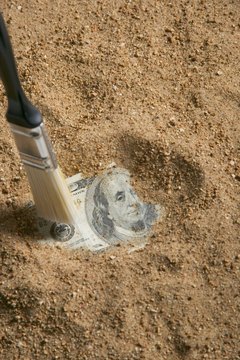 The U.S. Treasury is one of many entities that can hold money you're entitled to but never received. The Treasury holds money from government bonds and cash from certain claims against foreign governments. Other federal agencies can also owe you money. If you get a refund from them, the check will come from the Treasury because it is the government's main payment agent. Most refunds can be researched through the appropriate websites.
Lost Treasury Bonds
Go to the Treasury's Treasury Hunt website and click the "Start Search" button.
Enter your Social Security number or employer identification number and click "Search." The tool will show you if there are any bonds issued since 1974 that are tied to your Social Security number.
Retrieve lost bonds that are not in the Treasury Hunt system by filling out form PD F 1048 and sending it to the Bureau of the Public Debt in Parkersburg, West Virginia. The form contains instructions on how to fill it out and the full mailing address. You will have to get your signature notarized.
Foreign Claims
Go to the Treasury Financial Management Service's website for unpaid foreign claims. Click on the name of the foreign government against which you or your family may have a claim. As of 2013, the choices include claims against Germany, Libya and Vietnam, as well as general claims stemming from U.S. involvement in foreign wars.
Complete the certification form available on the FMS website and have it notarized. Send it to the Financial Management Service's foreign claims office in Hyattsville, Maryland, to claim your settlement.
Fill out Form 1055, also available at the FMS website, if you are an heir to a deceased person who was entitled to a claim. Send it to the FMS office in Maryland.
Tips
In addition to the Treasury, you may have money from past tax refunds held by the Internal Revenue Service. You may also have unclaimed cash from accounts at failed banks held by the Federal Deposit Insurance Corporation, claim money held by the Securities and Exchange Commission, or refund money for a Federal Housing Agency mortgage held by the Department of Housing and Urban Development.

Many states also hold money for their residents. You could have money being held by any state where you have lived.
References
Photo Credits
Jupiterimages/liquidlibrary/Getty Images