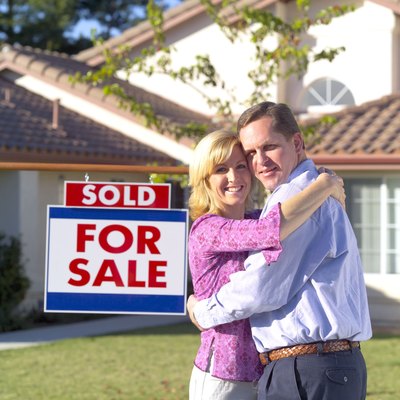 Moving throws a monkey wrench in your life, especially when you and your new spouse have just started getting comfortable in your surroundings. The fact that you own a home further complicates matters, especially if you'd rather not sell the property at a loss. The good news is that with careful planning and patience you can get the price you want and come out ahead -- even in a buyer's market.
Fix up your home's interior and exterior as needed. Focus on those items that could significantly reduce your bottom line during contract negotiations, such as the roof, plumbing and electrical, the flooring and the interior paint quality. Repair or upgrade those items as cheaply as possible, knowing that your task is to sell a house in good working order, nothing more, nothing less.
Contact your neighborhood real estate brokerage, tell the broker that you are thinking about selling your home and ask for a comparative market analysis. Most brokerages provide prospective clients with CMAs at no cost. Review the most recent sales in your neighborhood and highlight the properties most similar to your home in terms of living space size, location on the street and upgrades, such as a finished basement, garage and fenced yard.
Price your house at the top of the range, but keep your asking price close to the most recent high price in your neighborhood. Buyers review the same CMA, and they could be reluctant to make a serious offer if you ask much more than the selling price of similar or exact models.
List and market your property with the help of an experienced real estate agent in your area. An experienced real estate agent can cast a wide net in search of qualified buyers by marketing your home in magazines and newspapers, by holding open houses for buyers' agents and for the general public, and by placing your property in the multiple listing service database. The more buyers that view your home, the more offers you'll have from which to choose.
Offer your home for sale as is, decline the home inspection contingency if the buyer adds it to the contract, and offer a home warranty -- an item that retails for a few hundred dollars -- for the buyer's peace of mind. Selling your home as is and making no guarantees is perfectly legal and gets you out of making costly repairs just to close the sale.
Decline low-ball offers tactfully. Undoubtedly, you will get offers way below your asking price and terms, but stay focused on your goal of getting the highest possible price. Kindly thank such buyers for under-market offers and let them know that you aren't desperate to sell. If a buyer really likes your house enough, she could come back with an attractive offer a few days or weeks later.
References
How to Sell a House Fast in a Slow Real Estate Market; William Bronchick and Ray Cooper
Staging to Sell: The Secret to Selling Homes in a Down Market; Barb Schwarz
Tips and Traps When Selling a Home; Robert Irwin
Photo Credits
Brand X Pictures/Brand X Pictures/Getty Images