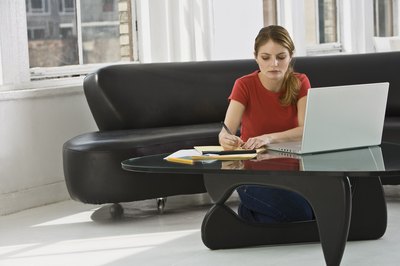 With over 110 million active user accounts, PayPal has become a cornerstone of online shopping. Whether you're jumping in on that great online deal or loaning your brother gas money, PayPal can do it instantly. With so much money changing hands, user verification is important. In fact, PayPal limits your transactions until you validate your account with either a credit card or a bank account. If you don't have a credit card, adding a checking or savings account can do the trick.
Click the "Profile" link on the home page for your PayPal account. Choose "My Money" in the drop-down menu, and then select "Add Bank Account."
Choose the radio button beside "Checking" or "Savings" to identify the type of account you have. Input the routing number for the bank and your account number in the appropriate fields. You can find both of these numbers on the bottom of your checks or call your bank for account details.
Click the "Continue" button. Select the verification method you prefer. Select immediate verification if you want to log on to your online banking account for validation. Choose the longer method if you prefer to have PayPal issue two deposits in small amounts into your account.
Monitor your bank account for the deposits if you choose the longer option for verification. Click "Verify Bank Account" from your PayPal account page once the deposits appear. Enter each deposit in the fields provided, then click the verification button.
Tip
If your bank consolidates the two small deposits into a single posting, you'll need to have the deposit verified by PayPal. Click "Contact Us" on the PayPal home page, and then select "Email Us." Choose "Bank/Credit Card" as the primary topic, and "Random Deposits" as the subtopic. Enter the last four digits of your bank account number and choose the option for a single deposit. Input the total amount along with the date it was deposited. Then click "Submit."
Photo Credits
Comstock Images/Comstock/Getty Images