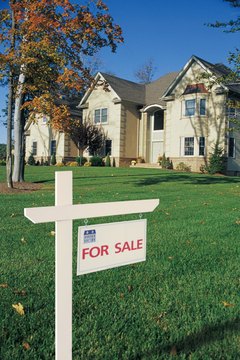 Getting your house ready for sale can be an exciting prospect, especially if you're moving up to something bigger and better. Your goal is to make the house look warm, appealing and ready to move into smoothly.
Pack it up. De-clutter your house by packing as much as you can into boxes and putting it in your garage or in storage. Not only does this give you a jump-start on your move, but it also makes the house look more open and spacious.
Fix it up. Go through your house room by room and look for little things that need to be fixed. You've probably overlooked the dog scratches on the garage door and the dent in the wall from when you tried to move a table for a party. Buyers will see these things, so it's in your best interest to make as many repairs as possible. Call in a handy-man if necessary.
Clean it up. Clean the house from top to bottom. Get the carpets steamed and the windows washed, and go over baseboards, cabinet fronts and appliances to give them all a sparkling sheen. This makes the house more appealing, indicating you've taken great care of it, which will give prospective buyers added confidence.
Stage it. Home staging is what model home decorators do to make a space look especially inviting. For example, position furniture at angles and use ambient lighting to create a warm, homey feel. Borrow a bunch of silk plants and put them above cabinets, on shelves and in blank corners, and set them off with up-lighting. Buy pretty designer towels and rugs for your bathroom, but don't actually use them -- just keep them for show when the house is being viewed. These little touches can make your home look like a designer's showcase.
Curb it. When you hear real estate agents talking about curb appeal, they're talking about the first impression a prospect has when they pull up to the curb in front of your house. Get your lawn manicured, pull out dead plants and flowers, and replace them with new ones. Make your home look inviting with a welcome mat and wreath on the door.
Keep it tidy. It can be really challenging to live in a house that's for sale because you never know when an agent will want to bring a client by for a showing. Keep a bucket of cleaning supplies on hand so you can make a quick sweep of the house when you're expecting visitors. Have a can of air freshener on hand, as well as an empty laundry basket you can toss miscellaneous items into to make the house spic-and-span.
Items you will need
Packing boxes

Cleaning supplies
Resources
Photo Credits
Comstock/Comstock/Getty Images