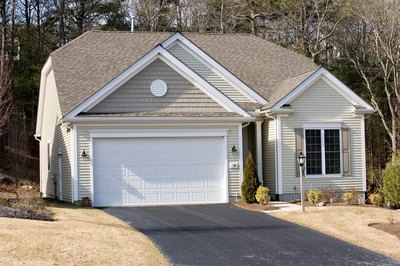 If you've been searching for a home at an attractive price, buying a bank-owned foreclosure might be the answer. Foreclosed properties usually sell below market value because the bank is more interested in recouping the money it loaned to the previous owner than making a profit. You'll have to act fast when you see something you like because competition for foreclose homes can be fierce. If you can find out which bank owns the property before it is advertised, you will increase your chances of owning the home.
Check the records at the county tax assessor's office for the name of the party responsible for paying taxes on the home. If the record is up to date, it should provide the name of the bank that owns the property. If the record is not current, it will show the name of the last private owner of the home. In that case, collect the information for further research.
Visit the clerk of the county court's office. Provide the property address and ask to see the deed. If you checked the records at the tax assessor's office, you can also provide the property number and the name of the homeowner. The record should list the bank that currently owns the home.
Search for the property on bank websites such as those operated by majjor lenders such as Chase, Bank of America and Wells Fargo. Select the state where the home is located and browse through the addresses in the results. You can also search government websites such as the one operated by HUD.
Check websites that provide information on foreclosed properties, such as RealtyTrac and PropertyShark. When you enter the address of the property, the sites return as much information as is available, including the name of the owner. PropertyShark offers free membership, while RealtyTrac charges from $49 to $249 for access as of September 2012.
Contact a realtor for assistance. In addition to checking tax assessor's records and county records, the realtor can check the Multiple Listing Service (MLS) to find out which bank owns the house. MLS contains information on commercial and private properties, including foreclosed homes, but is only accessible to licensed realtors. To find a local realtor, visit real estate websites such as Century21.com, Remax.com and Coldwellbanker.com.
Photo Credits
Jupiterimages/Photos.com/Getty Images