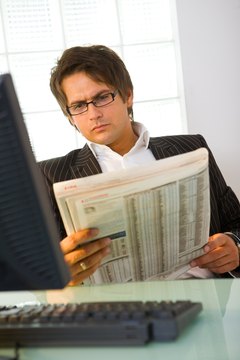 Mortgage interest rates vary by loan type, location and lender. They can also vary from one loan specialist to another depending on the rate of commission the loan officer is trying to earn. Interest rates are determined by the state of the economy, which can drive mortgage rates up or down. To get the best interest rate possible when you decide to buy or refinance a home, you may need to utilize various resources in keeping a close watch on current market trends.
Read the financial section in both local and national newspapers to keep on top of current mortgage rates and points. Look for advertisements by lenders in your area, as some publish the current rates they are offering on mortgages when they advertise.
Watch the news to keep track of changing mortgage rates. Stay up to date on the state of the national economy, as this is a critical financial indicator. Pay attention to market conditions that can affect mortgage rates. Lenders follow market trends; therefore, interest rates tend to rise with the rate of inflation. On the other hand, a slowing economy usually means lower interest rates. That's because lenders get the money to make loans from investors who are hoping to make a profit, according to financial commentator Jim Cramer.
Visit the websites of banks, credit unions and other financial institutions to find information on current mortgage rates, market trends and future projections. Write down the information, as it may come in handy if you need to negotiate better rates with a mortgage broker or lender. Financial websites such as Bankrate.com give you the option of selecting the town and state where you live for more accurate details on the rates available in your local area.
Contact several lenders directly to ask about the mortgage rates they currently offer. You will want to compare interest rates so that you can find the best deal. Request the average rates, which are being offered on the type of mortgage you are seeking.
Ask whether a rate being quoted is fixed or adjustable. Find out if rates are the lowest for that day or week. Inquire about the annual percentage rate (APR) for the loan as well. The APR includes points, broker fees and other credit charges you may have to pay in addition to the interest rate.
Apply for pre-approval for a mortgage loan. You will not know for certain what mortgage rates are available to you until you actually submit a loan application. Rates can vary based on your credit score and history. Even if you have poor credit, you can still look for the best interest rates available to you.
Photo Credits
Jupiterimages/Photos.com/Getty Images