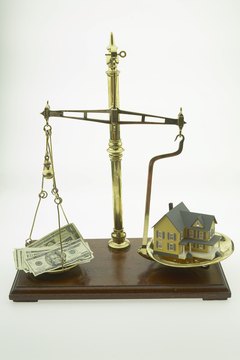 After you pay off your mortgage, you can settle in and enjoy freedom from a house payment. If you find you need funds, one way to get them is by refinancing paid-for property and cashing out your equity. With solid credit scores and income, you shouldn't have issues qualifying for a mortgage on your existing home. The downside is that you'll be back to making mortgage payments. The upside is that you'll have the cash you need.
Choose two or three homes near your home with similar value and structure that have recently sold. Visit your local public records office to view the public record data -- this will tell you the selling price of the homes. Use these "comparables" to get an idea of your home's value.
Contact a lender with whom you have a recent history, such as a personal loan, bank accounts or your previous mortgage. Inquire about applying for a mortgage for your paid-off home. The lender will assess your loan-to-value limit – that is the amount of money you wish to cash out versus the appraised value of your home. Lenders set these limits based on Fannie Mae and Freddie Mac guidelines, according to the Dignity Mortgage website. The LTV limit for a single-family, owner-occupied home is 85 percent. Ask about closing fees, terms and interest rates for a loan in the amount you want.
Contact two or three additional lenders and inquire about applying for a mortgage for your paid-off home. Provide the same information and ask about closing fees, terms and interest rates. Take notes or receive quotes from all lenders to enable you to compare them.
Compare the mortgage quotes you received from the lenders. Choose the lender with the most appealing fees, terms and interest rate.
Fill out the mortgage application with your personal and financial information. Include relevant details about your income, assets, employment history and credit history. Submit the application to the lender.
Proceed through the approval and loan-processing period. The lender will verify the information on your application and approve it as long as you meet approval qualifications. The lender will also hire an appraiser to appraise your home's value. As long as the loan amount and the property appraisal fit the LTV limit, expect an approval.
Close on the new mortgage by meeting with the lender and title insurance company and signing the papers. Pay any fees associated with the new mortgage and the closing. Receive a check for the amount of your mortgage.
Tips
A benefit of a mortgage is the tax-deductions you will be able to claim on the interest you pay.

If the amount of money you require is relatively small, you may not need a whole new mortgage. You may be able to raise sufficient funds with a home equity line of credit instead, tapping only a portion of your entire equity.
Photo Credits
Hemera Technologies/AbleStock.com/Getty Images