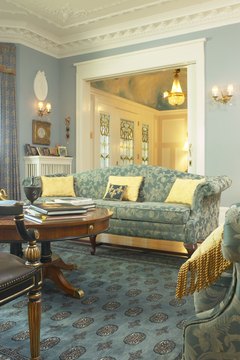 You don't have to break the bank t to add a touch of luxury to your home decor. Few couples starting out have the option of completely remodeling their home or buying all new furniture, but you can make a difference and still watch your pennies. Plan in advance what you want to do, comparison shop to find the best prices on the furnishing or decor item you've selected, and do the work yourself. Just one or two upgrades can give your home an upscale, rich look even when you're on a budget.
Create a focal point in a room by hanging an eye-catching, one-of-a-kind piece of art or splurging on a single signature item. The right piece can give the room a "wow" factor that instantly upgrades your decor. You can achieve a similar effect by replacing the paint or wallpaper on a single wall in your living or dining room with a rich-looking wallpaper or textured fabric.
Upgrade the light fixtures with something stylish, sleek and luxurious-looking. Wall sconces, burnished metal or iced glass can all contribute to a more upscale look. Such fixtures are readily available at most major home stores and you can save money by doing installing them yourself.
Add wood trim to your walls or ceilings for an instant and affordable rich look. Crown molding can make a ceiling look higher, chair rails along the wall provide a classic look and wainscoting adds a touch of class to an otherwise plain room. Purchase and install these trims yourself to stay within budget, then paint them using a satin-finish paint in a neutral color that contrasts with the walls.
Select a sumptuous fabric to make new curtains or recover a single chair or some throw pillows to provide an upgraded sense of style to a living room or bedroom. Decorate the pillows or curtain swags with satin tassels or other luxurious trims. Splurge on a few thick, thirsty luxury towels to give your bathroom an instant upgrade.
Organize your rooms and get rid of clutter. This immediately makes rooms look bigger, cleaner and more upscale. Best of all, it costs virtually nothing.
Photo Credits
Hemera Technologies/AbleStock.com/Getty Images