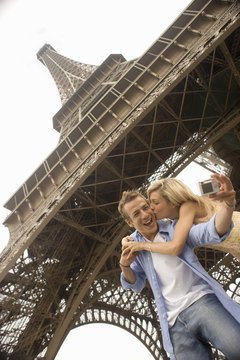 There's a lot of living going on in your living room. It's the place where you entertain guests, play board games, read the paper or just lounge around. Chances are your living room has a sofa and a loveseat, a coffee table and some end tables, maybe a lamp and a picture or two. If you're looking for ways to liven up your living room, check out these tips for low-budget living room design ideas.
Pick out picture frames. There's no need to spend a lot of money on wall art when you can create one of your own. Place those scenic pictures taken during your honeymoon in picture frames and showcase them on your living room end tables. You can make a collage, or enlarge a few pictures and hang them on the wall. As a bonus, they'll make for a great conversation pieces whenever you have friends or family over.
Add wall stencils. They're like wallpaper, only better. Turn your living room into a forest of sycamore trees, whispering elms and cherry blossoms; or stencil magnolia vines climbing along the border of the ceiling. Other wall design options include abstract art, medallions, and murals. You can even add a few of your favorite inspirational quotes to set the mood.
Throw some throw pillows. Add some color and pattern pizzazz to your sofa and loveseat with a couple of throw pillows. Not only do they add extra cushion and support, they make redecoration simple and cheap. Throw pillows are versatile, too. Add a couple to the bedroom, home office or den for a quick décor fix.
Slip on a sofa cover. Forget purchasing an entire living room set and go for a slip cover instead. With plenty of styles and colors to choose from, slip covers make upgrading your living room furniture easy and affordable. Even Fido will love the change of scenery, and you will too with pet-friendly slip-ons.
Light a new lamp. Change your lamps and see your living room in a whole new light. Go for an antique look, or replace your boring plain lamp shades with something wild like leopard print and see what a difference it makes. To create soft, mood lighting, consider changing the wattage or color of your light bulbs.
Customize with curtains. They come in every color in the rainbow, not to mention size, style and texture. You can also customize the rods they hang from. Whether you like shear, sexy lace or funky zebra stripes, installing new curtains is a great way to update your living room look without spending too much money.
Items you will need
Picture frames

Wall stencils

Throw pillows

Slip covers

Lamps/lamp shades

Curtains
Photo Credits
Digital Vision./Photodisc/Getty Images