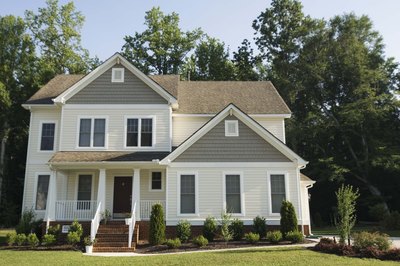 An insurance policy is a legal contract between the insurance company and the policyholders. The declarations page, sometimes called a policy information page, includes information that is "declared" by the company and the insured with respect to the contract. Some companies provide a declarations page only when the policy is first issued or when changes are made. Some companies provide a declarations page with every annual renewal notice.
Unique Information
Insurance companies use standard contracts for homeowners insurance. The basic benefits and provisions of the contract are the same for all policyholders insured under a particular type of policy. The declarations page, though, distinguishes each policy from the rest. It is usually included as a cover page or the first page to the insurance policy, and it lists information that is unique to the agreement between the company and the policyholder.
Information Included
The declarations page will list the policy number at or near the top of the page, followed by the name and address of the policyholder and the name of the insurance company and agent, if an agent was involved in the policy sale. The property that is the subject of the insurance will be identified, including the property address, and the name, addresses and loan numbers of any mortgagees. Other details relevant to the property insured, such as the type of construction, might also be included. The declarations page will identify coverages selected, the limits applicable to each type of coverage, the policy deductible and any endorsements attached to the policy. The effective date and expiration dates of the policy and the policy premium will be listed.
Verify the Information
Policyholders should read the policy declarations page to verify that all information listed is accurate. For example, if mortgagee information is absent or incorrect, the mortgagee might not receive proof of required coverage. If certain coverages are not listed or the deductible shown is higher than intended, the policyholder should contact the agent or company immediately to address the problems. Miscommunications and errors sometimes occur during the application process, and the declarations page is an effective tool to ensure the policy is issued as intended or expected.
Declarations Pages Don't Guarantee Coverage
The declarations page summarizes who and what is insured but is not useful for determining whether an actual claim is covered. The declarations page only provides a listing of coverage purchased. For example, the declarations page might indicate the policy includes coverage for personal property up to a limit of $50,000. That information, though, doesn't tell the policyholder the types of losses covered, whether there are any limitations on certain types of property or how the lost or damaged property will be valued. To determine coverage under the contract, it is still necessary to read the policy.
Photo Credits
Jupiterimages/Comstock/Getty Images