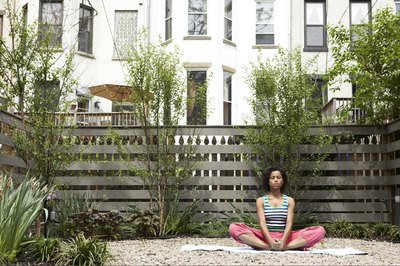 Even if you don't love to dig in the dirt or have an unlimited budget, you still can have your backyard looking like an enchanted sanctuary in no time. If you want to spend time relaxing in your backyard instead of your chiropractor's office but your home improvement budget isn't stretching as far as you hoped, it's time to get creative. Start by asking yourself what you want from your backyard. Next, assess your landscaping considerations. Then, it's time to make a plan.
Patios
One of the most common mistakes when taking on a backyard makeover is to make the patio too small. Having room to stretch out means having a patio large enough for furniture such as chaise lounges and tables to put drinks on. It's better to make a patio too large than too small. You can always put pots and planters of flowers and shrubs on a patio to make it more lush with greenery, but a small patio can leave you feeling cramped and uncomfortable.
If you have a concrete slab patio, enlarge the surface area with inexpensive flagstones brought to the same level as the concrete on a bed of gravel. To give an ordinary concrete slab a sophisticated look, use an acid wash to permanently tint or stain it so that it has the look of stone. With inexpensive etching tools, carve lines into the concrete to simulate flagstone shapes.
Patio Covers
Arbors or pergolas come in ready-to-assemble kits that are reasonably priced and make a huge impact in terms of style. By training a flowering vine, such as wisteria, to grow over the top, you create beautiful, fragrant shade that turns your backyard into a garden paradise. For an even less expensive alternative, sink in four corner posts, and drape or stretch fabric across the top to create a cabana.
Satellite Areas
Connect different areas of your backyard with paving stone walkways. This gives your backyard a feeling of greater space and interest. An example is an arbor with bench seating between the posts. Wooden ottomans in front of the bench can be cushioned for a foot rest or left bare for use as a table for drinks. The satellite areas don't have to be large, but they should tie in with the style of your main patio.
Accessorize
Shop garage sales, flea markets and antique consignment shops for old leaded windows that you can hang from the supports of your patio cover to create an outdoor "wall."
If the backyard walls of your house are bare, dress them up with shutters around the windows and trim around the doors. Window boxes planted with flowering plants are inexpensive but have a huge impact on the look of your backyard.
To turn your backyard into a real water garden sanctuary, you don't need to dig a pond -- pre-assembled floor fountains can provide the relaxing sound of a gentle waterfall, and many come with LED lighting that create that enchanted forest feel you're looking for.
Photo Credits
Chris Clinton/Lifesize/Getty Images