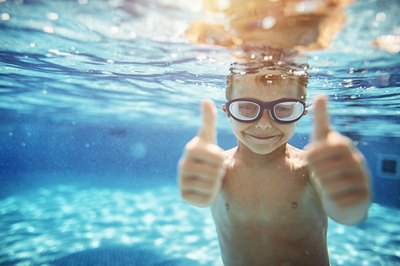 When you want to have fun in the sun right in your backyard, a pool of your own might be paradise. A pool comes with a hefty price tag, though, so be prepared to pay for it over time. While you have a few different options, one of the simplest is to finance a new pool with a new mortgage. Once you secure your financing, you'll be ready to dive into your pool project.
Check with Lenders
First, contact the lender with which you have your current mortgage to inquire about a new mortgage. Often your current lender will be eager to retain your financing, possibly offering attractive interest and terms. Note the terms offered by your current lender.
Approach two or three other lenders to inquire about a new mortgage. Find out the interest rate, terms and closing costs offered by the lender. With a new lender, you will need to show proof of identity and income, warranty deed and homeowner's insurance. The new lender will investigate your credit and check the value of your home during a prequalification process. After verifying your information and assessing your creditworthiness, the lender might extend you prequalification status.
Determine Cost
Ascertain how much financing you will be able to secure from a lender for building your pool. The total amount of the loan must be enough to pay off your existing mortgage and pay for the pool construction and it must match the projected value of your home after the contractor finishes the pool construction.
Get estimates from at least three pool contractors for the materials and labor involved in installing a pool in your yard. Investigate the contractors by checking professional credentials, licensing and references. Select the contractor who fits your style and whose estimate fits your budget, according to the financing you've secured. An above-ground pool costs significantly less to install than an in-ground pool, so you may be able to save some money that way.
Request the Loan
Submit the loan application with the lender according to the estimate of the pool contractor. Try to make the mortgage amount a few hundred dollars more than pool estimate to cover any additional expenses connected to pool construction.
Proceed through the application process with the lender. Expect an appraisal on your home to determine the exact amount of equity. As long as your equity is enough to cover the expense of the pool construction, the bank should approve the loan application for the new mortgage.
Finalize the Loan
Close on your new mortgage with the bank by signing the loan papers. At closing, the lender will pay off your existing mortgage with a portion of the new mortgage. The lender will create an escrow account for the remaining funds -- the contractor will draw from this account during pool construction.
Tip
An above-ground pool costs significantly less to install than an in-ground pool.