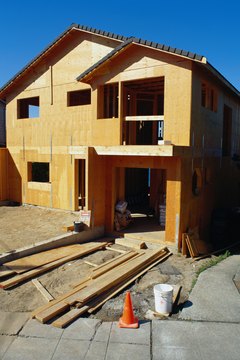 If you're interested in getting a mortgage loan to build your new home on a lot that you own, a construction deed of trust can help you secure the funds needed to construct the home. Unless you are a licensed builder, you will need to establish an agreement with a contractor and communicate how the property will be constructed with the lender. The deed of trust secures the mortgage loan and your obligation to repay the loan in installments.
Deed of Trust
A deed of trust is a document that assigns real estate to a third-party trustee until the mortgage borrower pays the full amount of the loan. The trustee has the power of sale, and the lender retains a security interest in the property until the borrower completes the mortgage payments. The lender is also the beneficiary of the trust deed. In addition to building a home, a deed of trust for a construction loan can be used to alter the arrangement of a structure or to make improvements to the premises.
Construction Loan Deed of Trust
A deed of trust for a construction loan requires the borrower to repay the principal sum within three years after the deed of trust is executed. However, a permanent loan deed trust provides that the principal sum of the loan will become due more than three years out.
Construction Loan Agreement
Before a deed of trust is executed, you will need to enter into a construction loan contract with the mortgage lender. The property must be built according to the terms and conditions of the loan agreement. Most lenders also reserve the right to enter the property during construction for inspection and to determine whether there are any violations to the contract terms.
Disbursements
The full amount of the construction loan is not distributed at closing. A percentage of each portion of the loan is usually distributed to the borrower during specific increments of time until the entire project is complete. If you hire a contractor to build the home, the schedule of loan disbursements will determine when you'll receive the next portion of the loan as the home takes shape. Your contract with the builder should include the breakdown of the project and the costs associated with each portion of the building process.
Loan Approval Process
After you submit your loan application, the application will go through the underwriting process. The lender will review the entire construction project, including the budget, in addition to your income and creditworthiness. Similar to the mortgage loan process for a previously built home, the lender will complete an appraisal by reviewing the building plans. The builder for the construction of the residential property must comply with the lender's standards before you'll be approved for the construction loan.
Photo Credits
Ryan McVay/Photodisc/Getty Images