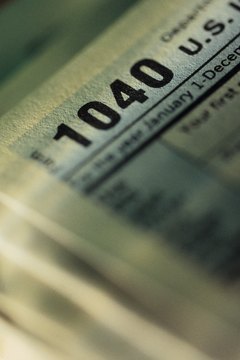 Young couples must file their taxes every year. Those couples who fail to file a tax return are notified in writing by the Internal Revenue Service. In most cases, the IRS provides a substitute return for the couple that includes any information provided to the IRS. This information does not include any credits, expenses or exemptions that lower your tax burden. You want to file all tax returns for previous years with the IRS to get credit for your exemptions and credits. The IRS adjusts your substitute tax return with the new information you provide.
Print out a prior year tax return form for the year you want to file. The IRS provides these forms on its website. You may also call the IRS at 1-800-829-3676 for a mailed copy of the form.
Assemble all the documents you need to fill out your taxes for the previous year. You need your W-2s, 1099 forms, alimony records, self-employment income and expense receipts.
Fill out the prior year tax return by inputting your income. Use your credits, deductions and exemptions to determine your total taxable income. Calculate any balance due or refund owed.
Complete any additional forms and schedules for your tax return. You may download any additional schedules and forms on the IRS website or call the IRS to have the forms mailed to you.
Attach your W-2 and other tax documents to your IRS return.
Mail your previous year tax return to the address on the second page of the tax return form in the general instructions. Where you mail your tax return depends on where you live. Not all IRS locations process previous year tax returns.
Tip
Federal law provides a three-year window to file your back taxes and claim your refund. File on time to get money owed to you. After three years, you no longer are eligible to get a tax refund on a previous year's tax return.
Warning
Failing to file a tax return often results in failure to file and failure to pay penalties. You are also charged interest on any monies owed, including penalties.
Resources
Photo Credits
Comstock/Comstock/Getty Images