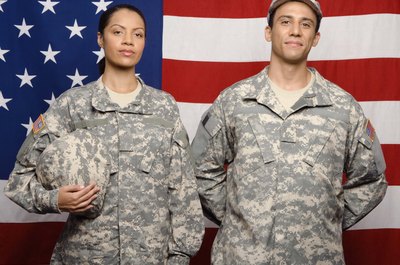 Veterans and members of the armed services can receive financial assistance for postsecondary education. The federal government provides this assistance to help service members transition between military and civilian life. This assistance also ensures economic benefits for service members also by making it possible to acquire a college education. Once you institute GI Bill benefits, check on a GI Bill payment by contacting the Department of Veterans Affairs.
Create a basic account with the federal government eBenefits gateway by visiting the eBenefits website. Once you create an account using your military credentials, you will be able to view entitlements and enrollment information. If you are an active service member, use your Defense Common Access Card and the military-supplied smart card reader to initiate a defense self-service account. If you are a veteran, use your Defense Enrollment Eligibility Reporting System enrollment to initiate enrollment.
Upgrade your account to a premium account by completing a verification process. You may be able to complete this process by telephone (800-827-1000) or by visiting a regional office or service center.
Log in to your account at the eBenefits website using your account credentials. Once you log in, you can view your Post-9/11 and Montgomery GI Bill enrollment information, including benefits and checks issued.
Contact the Veterans Affairs office by calling 800-827-1000 to check on your GI Bill payment. The office receives telephone inquiries Monday through Friday between 8 am and 9 pm EST.
Resources
Photo Credits
Jupiterimages/Creatas/Getty Images