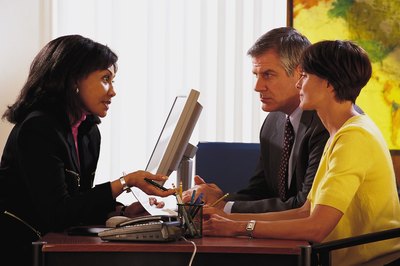 E-banking, which includes any transaction you perform using the Internet or a mobile device, is becoming more common. Making electronic payments, paying bills and transferring money between accounts are all elements of e-banking, which can be done from your cell phone or computer. Despite potential risks of identity theft and account hacking and less personal contact with the bank, e-banking presents a number of advantages to customers.
Convenience
The ability to do banking from home at any hour is one of the most common benefits of online, or e-banking. You can move money from checking to savings or make electronic payments 24/7, even when the bank is closed. Some customers also appreciate the real-time banking information to check balances in checking and savings accounts.
Portability
Electronic banking also creates a more mobile bank for customers. Mobile apps allow customers to check balances and perform routine bank transactions from anywhere they can get phone reception. Alerts to low balances are offered by some bank apps.
Cost Savings
E-banking offers some cost-savings opportunities for customers. By paying bills online, you reduce the number of checks you have to write. This saves you on buying new check pads and paying for stamps and envelopes. Also, with broader access to banks operating online, you can price shop and find lower fees and more favorable interest rates.
Track Spending
Some bank customers who previously did little to no budgeting now monitor basic spending habits using spending trackers provided by online banks. When you make purchases with a debit card or pay bills online, programs update your spending chart by cataloging the expense as utility, car payment or another type of bill. These trackers are somewhat limited because they can't directly monitor cash spending. However, some bank apps allow you to manually record grocery expenses or other cash outflows to fill those gaps.
Industry Benefits
Banks can minimize labor and supply costs by allowing customers to self-service certain types of transactions, and save money on paper and postage by sending statements over the Internet. While some people believe ATMs and e-banking go against traditional, personalized banking, others point to the increased efficiency and flexibility.
Photo Credits
Comstock/Comstock/Getty Images