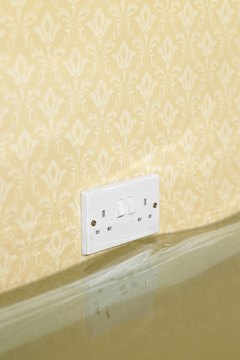 Broken pipes or a leaky roof can cause serious damage to your home, and most homeowners insurance policies will reimburse you for at least part of the cost. Homeowners insurance policies deal specifically water damage caused before water comes in contact with the ground. This includes the damage caused by a broken water pipe in the living room or rain damage caused by a hole in your roof. It won't cover damage from floods; you will need a separate policy for that.
Consult your current homeowner's insurance policy. Most policies include some type of water damage insurance. There are two main types of water damage insurance. HO-2 policies cover 16 specific types of damage, including damage from burst pipes, leaks from air conditioning or other appliances, and water released from an automatic fire-sprinkler or heating unit. HO-3 policies cover any water damage unless the policy says otherwise.
Talk to your insurance company about the type of coverage you have. Some plans won't reimburse you for water damage from an appliance if that appliance wasn't properly maintained. Others won't cover water damage to your yard or to goods outside of your home. Others won't pay to repair or replace whatever caused the water damage in the first place.
Repair and maintain your appliances, pipes, and heating and cooling systems. That will make it easier to report water damage if one or more of your goods breaks down.
Tip
If you live near a major body of water, you might want to purchase flood insurance in addition to homeowners insurance. Flood insurance covers water damage caused by natural disasters such as heavy rain, flash floods or river or ocean overflows. Homeowners insurance will not cover flood damage.
Photo Credits
Michael Blann/Digital Vision/Getty Images