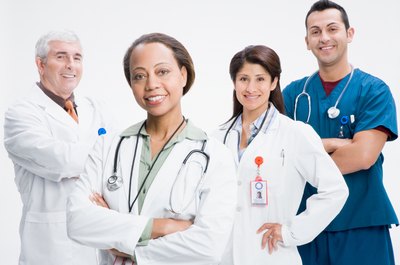 Tricare is the health-care provision system for U.S. military personnel, military retirees and military family members. Those covered under any of the Tricare options typically use doctors and hospitals, called "providers," who have joined approved networks and agreed to treat patients according to Tricare policies and cost schedules. Your specific Tricare plan outlines which providers you can access, based on your status and where you live.
Check your specific Tricare policy documentation to identify your coverage plan. This determines the type and location of providers you can access under Tricare. For example, active-duty military personnel typically are covered under Tricare Prime policies, which entitles them to medical care at a Military Treatment Facility located at a U.S. government installation or military base. Family members and retirees often are covered under other Tricare program variants and usually are referred to providers in their local communities who are part of an approved network.
Contact one of the three Tricare Prime Contractors to identify providers in your region. Tricare is administered in the northern part of the U.S. by Health Net Federal Services, in the southern regions by Humana Military and in the western part of the country by TriWest Healthcare Alliance. Each organization maintains current lists of approved providers by state and medical specialty.
Visit the website of your region's administrating group. A family of a retired military member living in southern Illinois, for example, falls into the northern region, administered by Health Net Federal Services. At the Health Net website, click the "select a provider" button. Follow remaining instructions by clicking the state, then the part of the state and so on, until your search is focused on your immediate area and the type of medical provider you need. Each regional administrator has a similar process on its site.
Contact your region's Tricare contractor by calling its toll-free number, as an alternative to searching online. At the time of publication, the numbers are as follows (www.tricare.mil): North Region -- Health Net Federal Services -- (877) 874-2273 South Region -- Humana Military Healthcare Services -- (800) 444-5445 West Region -- TriWest Healthcare Alliance -- (888) 874-9378 Provide the required information, such as state, city and type of care sought to receive a list of specific Tricare providers that meet those criteria.
Choose a doctor from the list of providers provided by the Tricare locator system to set up an appointment for care. Check before you make your appointment to make sure the office still offers treatment to Tricare members.
Items you will need
Tricare program documentation
Photo Credits
Jupiterimages/Photos.com/Getty Images