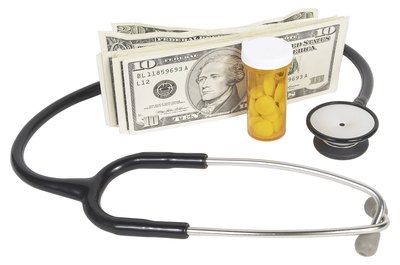 If you're faced with a financial emergency and the only remaining source of funds is a pile of cash in your 401(k) plan, you may be exempt from some of the Internal Revenue Service's strict 401(k) withdrawal rules. As a general rule, you can't touch the funds until you're 59 1/2, unless you're rolling it over when you change jobs or for a narrowly defined list of eligible hardships. Most early withdrawals are greeted with a 10-percent penalty on top of any tax you owe on the distribution, even if you're in dire financial need. Each employer's summary plan description has all the specifics spelled out, and policies vary widely between companies.
What Percent of 401(k) Is Taxed When Withdrawing from Your Account?
Since your 401(k) contributions were tax-free, you'll pay tax on every dollar you withdraw, no matter when or how you take a distribution or how much the initial investment has grown. If you take an early withdrawal, even for hardship or emergency purposes, the Internal Revenue Service still assesses a 10-percent early-withdrawal penalty on top of any tax you owe on the distribution — unless it's due to the disability or death of the participant, certain medical expenses, to remove excess contributions or for deployed military reservists.
Can You Withdraw from Your 401(k) for Hardship?
Just because the IRS sanctions hardship withdrawals for certain reasons doesn't mean that your particular plan does. Each employer has the right to decide whether to allow hardship withdrawals and under which circumstances. The IRS considers the following situations to be hardships: high medical expenses (in general, those that exceed 7.5 percent of your adjusted gross income); a down payment on your first principal residence; a payment to avoid foreclosure or eviction; college tuition; funeral expenses; or repairs to your home after a disaster. IRS wording regarding the definition of hardship and which specific situations qualify is not very precise. Check with your company regarding the rules of your plan and whether there are specific dollar amounts or AGI percentages to define hardships, but the key is to prove to the plan administrator you can't cover these expenses without tapping into the 401(k) account. You can generally withdraw up to your total contribution minus earnings and employer matching amounts, but not more than the demonstrated need, except to cover taxes and penalties on the distribution. Most of the hardships incur the 10-percent early withdrawal penalty.
Can You Withdraw from Your 401(k) for Emergencies?
If your plan allows hardship withdrawals, and your emergency falls under one of the permitted reasons for a hardship withdrawal, you can use your 401(k) funds for the emergency. However, you must prove to the plan administrator that you have no other source of funds to pay the expenses. You won't be expected to sell your car to pay medical bills, but if you have a chunk of cash in a savings account, your plan is likely to refuse the hardship request. The IRS considers a second home, assets in a spouse or minor child's name (except irrevocable trusts) and non-retirement investments as sources of funds to utilize before allowing 401(k) withdrawals.
Can You Withdraw from a 401(k) Without Penalty if Terminally Ill?
The IRS does not have a specific rule regarding terminally ill individuals. However, if non-reimbursed medical bills are more than 7.5 percent of your adjusted gross income, or you are permanently and totally disabled, you can take a penalty-free early withdrawal. You'll still be taxed on the amount of distribution and you can't count any bills your insurance plan covers. You can waive the penalty if the medical expenses are for a spouse, dependent or a non-spouse beneficiary such as a domestic partner.
Can a Trustee Refuse Your 401(k) Withdrawal?
A trustee cannot refuse your hardship withdrawal if you've satisfied all the requirements laid out in the summary plan description. IRS wording regarding the definition of hardship and which specific situations qualify is not very precise. Expect to show proof, dated within the past three months, of both hardship and lack of other funds before your employer authorizes the trustee to process the withdrawal. Your plan may only offer hardship withdrawals for some IRS-defined hardships and not others, but the plan must specify the criteria in writing and follow the same rules for all employees.
How Long Does It Take to Receive Early 401(k) Withdrawals?
Here's where reading your plan's fine print is vital. Each plan has different rules and there is no standard for how withdrawals are processed. Some require paperwork with signatures, and others have online approval processes. Discussions with reps from Fidelity and ING revealed that once your employer approves the withdrawal, it may take one to seven days before the trustee can sell the investments, depending on plan rules, even if it's an emergency. You can choose how to receive the money: check in the mail (up to seven days) or overnight mail, or direct deposit, which takes up to four business days.
Photo Credits
Hemera Technologies/PhotoObjects.net/Getty Images