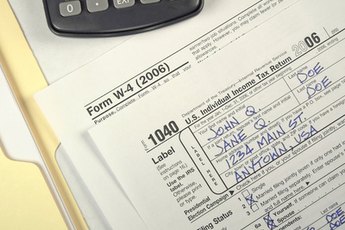 i
tax forms image by Chad McDermott from <a href='http://www.fotolia.com'>Fotolia.com</a>
Other than pride of ownership, there's nothing better than tax write-offs when it comes to owning a home. Economic recovery packages in 2009-10 brought exciting new tax credits for homeowners, especially first-time buyers. While most people know about writing off mortgage interest, there are other tax savings many homeowners may fail to take advantage of. Itemizing your taxes can seem tedious, but it's the best way to take advantage of tax breaks you may have coming to you. Tax rules and deductions can vary from year to year so be sure to consult with a tax adviser for the most up-to-date regulations.
Mortgage Insurance Premiums
Depending on the type of loan you have, and your income bracket, you may be able to deduct private mortgage insurance (PMI) premiums related to your primary residence. Your home must have been purchased between Jan. 1, 2007 and Dec. 31, 2010 to take advantage of this tax break. The Internal Revenue Service will allow this deduction fully if your modified adjusted gross income is less than $100,000 when filing single or married filing jointly, or less than $50,000 for those married but filing separately. For taxpayers above those brackets, the deduction begins phasing out. Your lender can tell you how much you paid in PMI. If your lender sends you a Form 1098, you'll find the amount of PMI premiums you paid last year in Box 4.
Loan Points
If you bought a home and purchased points toward the loan to bring down your interest rate, you may be may be able to deduct them come tax time. Barring any unusual accounting methods, that means if you paid $2,000 in points on your loan, you can deduct that same amount fully on your itemized return the following year. You may be able to deduct points paid by the seller, too. In the case of refinance, points paid generally can only be deducted over the life of the new loan. However, depending on your income bracket and other requirements, if part of the refinanced money was used toward making home improvements, you may be eligible to fully deduct the points in the year you refinanced.
Property Taxes
If you have an escrow account tied to your mortgage, you may not be aware of the amount applied toward local property taxes in your monthly loan payment. Your lender may provide this information in your year-end mortgage statement or you may receive an annual property tax statement. Whatever the case, be sure to look at the amount you've paid as it's fully deductible. If you purchased your home mid-year or refinanced, it can get a bit trickier to calculate this amount. Some of the property taxes may have been paid, perhaps by the previous homeowner, and you can't deduct those. You also cannot deduct property tax payments that may have been paid into an escrow account for future taxes. You only can deduct property taxes paid within the taxable year.
Home Office Expenses
As if being able to work from home was not enough of a perk, you may be over the moon when you find out some--or all--of your business-related expenses are tax deductible. But this is one of those write-offs the IRS tends to scrutinize, so be sure to understand the rules and regulations carefully before you write off your laser printer. Generally, if you're claiming a home office deduction, you'll need to show your business has a separate room in your home used solely and regularly for that purpose. Other tax rules apply if you're running a day-care type business out of your home where there may be some overlap in use for personal reasons.
Going Green
Not only is "going green" good for the environment, but it can benefit your bottom line as well. You can save hundreds on federal taxes by taking advantage of credits offered through energy-saving appliances and other home energy conservation initiatives. These include insulation, windows, doors, water heaters, roofs, plus heating and cooling systems. Many of these consumer-friendly incentives expire at the end of 2010. However, there will likely be similar tax credits offered in the future. You can find a complete listing of energy-saving tax credits at energystar.gov.
References
Resources
Writer Bio
Courtney Kreuzwiesner has more than 15 years of experience working in the public relations and communications fields. She has written on home improvement, money management and issues related to public health and wellness, such as disease prevention, nutrition and alternative medicine. Kreuzwiesner holds a Bachelor of Arts in journalism from Arizona State University.