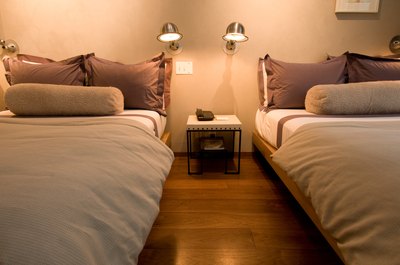 The Internal Revenue Service allows you to deduct housing expenses for lodging your company does not reimburse you for, while on out-of-state work assignments. A temporary assignment must last less than one year or your assignment is considered a non-deductible and indefinite project. You may qualify to claim housing and related travel expenses if your employer, or a contract from your own self-employment, takes you out of your home's general area for more than a day's work.
Lodging
You can deduct reasonable costs for rent or hotel expenses during your time away from home. To be reasonable, the rate for your housing expenses must be normal for the area you're in and your accommodations can't be considered luxurious. If you're married and ask your spouse to join you while on assignment, you can only include expenses allocated to yourself. For example, if you rent a hotel and pay a single occupancy rate when your spouse is not there, you can only deduct the single occupancy amount when your spouse joins you, even if you must pay a double occupancy rate during your mate's visit.
Transportation
Transportation costs while you're away include airfare for yourself to and from the assignment, rental car expenses and taxi or public transportation costs. If you rent a car, you can choose to deduct your actual expenses for the vehicle or use the IRS standard mileage rate. Actual expenses include the cost to rent the vehicle, rental insurance and gas. The standard mileage deduction equals the number of business miles you drive, multiplied by the IRS mileage rate. As of June 2012, the IRS mileage rate is 50 cents, but this rate changes each year, so check the IRS website for details. You'll have to allocate your transportation expenses to your work-related use. For example, if you use the car for personal reasons while you're away, you'll have to determine the percentage of time you use the car for business and apply the percentage to all your vehicle expenses.
Meals and Incidentals
During your assignment away from home, you can deduct meals and incidental costs related to your job. Incidental expenses include tips to hotel attendants, baggage carriers, bell hops and housekeepers. You can choose to deduct the actual costs of these expenses, but if you claim actual costs, you can only deduct 50 percent of your meals. As an alternative, the IRS may allow you to claim a per diem amount for incidentals. If you use the per diem rate, you don't have to account for expenses in this category or reduce your meals deduction. Meals and Incidental rates are found in IRS Publication 1542. Per diem rates vary depending on where your temporary assignment is located.
Claiming Expenses
If you receive a W-2 from your employer, claim temporary out-of-state housing and travel expenses on Form 2106 and attach it to Schedule A with your 1040 filing. You may only claim expenses that you paid that were not reimbursed by your employer. Your deduction is also subject to a 2 percent adjusted gross income limitation. If you're self-employed, claim your travel expenses on Schedule C and attach it to your income tax return. You may not deduct expenses that are reimbursed by your client or prospective client.
Resources
Photo Credits
Jupiterimages/Photos.com/Getty Images