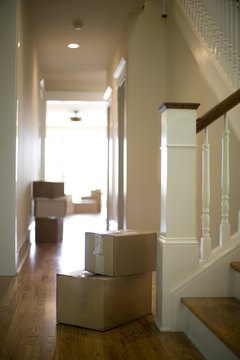 Short sales are made when individuals have fallen behind in their mortgage payments and are otherwise facing foreclosure. In a short sale process, sellers sell the home for less than they owe and the bank agrees to accept this to settle the mortgage debt. Banks accept short sales in cases where this is a cheaper option for them than foreclosure. Sellers frequently have questions about how a short sale will affect them.
How Much Will I Have to Pay to Sell my Home?
Probably nothing, if your lender approves a short sale. The lender typically pays the real estate agent's commission, title costs and repair costs. When you or your agent negotiate an agreement with your lender, include a phrase that the lender is approving the sale at no cost to the seller, according to Thompson-Brown, a California real estate firm. Of course, because you are selling the home for less than you owe, you will not receive any money at closing either.
How Will a Short Sale Affect My Credit and Future Homebuying?
A short sale is less harmful to your credit than a foreclosure. Your ability to buy another home depends upon several factors, including your credit. Generally, banks want to see that you can repay the loan before granting a mortgage. If the problems that forced the short sale are behind you, you might be able to buy a new home after 12 months of good credit, according to ShortSale4Dummies. If you seek to buy a home using a government-backed program, such as FHA or VA, the waiting period is typically two years. The minimum waiting period on a foreclosure is seven years, says CHW Realty.
Will my Lender Approve a Short Sale?
Lenders will approve a short sale when it limits their potential loss on a loan. Typically, you will need to submit an application that includes financial statements and a strong hardship letter. Hardships typically include job loss, illness, job relocation, divorce or adjustment in mortgage payment. Banks also typically require that you be "upside down" on your mortgage, or that you owe more than the property is worth. Some banks also require that you have unsuccessfully tried to sell your home for a higher price or that you have first attempted to modify your loan.
Is There Relocation Help?
Programs exist to provide some relocation assistance. Home Affordable Foreclosure Alternatives is a federal program that provides up to $3,000 in relocation assistance. To be eligible for HAFA you must owe less than $729,750, have obtained your mortgage before Jan. 1, 2009, not have bought a home in the last 12 months and not have been convicted of a finance-related felony. Some lenders will provide money for relocation. Some states might also offer transition programs.
Photo Credits
David Sacks/Lifesize/Getty Images