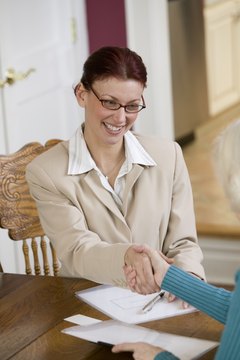 The insurance industry is highly competitive, which gives you the opportunity to save money. Your job is to determine how much money changing to another insurer will save you in rates and discounts. Before you make any changes, however, you might want to contact your current insurance company to ask if it is willing to match or do better than a quote you've received from another company.
Get quotes from several insurance companies. Personal finance commentator Jane Bryant Quinn points out that the best way to save money on auto insurance is to compare rates. Since auto insurers don't advertise prices, you need to search out those that offer coverage at lower cost. To find the best rates, look for similar insurance options offered by different insurers. Use online quote websites if you are searching for a fast way to compare multiple quotes.
Contact insurance companies directly rather than going through an independent agent. You will save money by cutting out the middleman. Start by calling insurance companies in your area. You can also request quotes on the websites of nationally known insurance companies. Many online comparison sites make it possible for you to receive insurance quotes free of charge.
Look over the discounts you are receiving from your current insurance company. Find out if other companies will offer you these same discounts. Ask if the company offers any discounts you might not know about. Most companies offer safe driver discounts and discounts for safety features on your car. Others offer additional discounts for a safe driving record, high credit score or low mileage.
Confirm that the money you will save on your premium with the new company will cover the loss of the multi-policy discount when you change insurance companies. You may lose this discount if you don't insure all the vehicles in your household with the same company. Ask if the new company offers discounts and savings not available from your current insurance provider.
Keep a copy of your current insurance policy handy as you shop to compare quotes. Enter coverage amounts that are the same as your current policy when requesting quotes. This allows you to make certain that you will receive the same level of coverage. Look for companies offering you the same coverage for less or offering you more coverage for the amount you pay now. It won't save you money if you are offered less coverage than you have now or need.
Check with your current insurance company to find out if you will be charged a penalty for canceling your insurance policy early. If there is a penalty, make sure it won't exceed the amount you will save by changing companies. It's often best to change insurance companies at the end of your policy period. Another good time to change your auto insurer is when you buy a new vehicle or sell your car.
Apply for insurance with the new company. Don't cancel your old policy until you receive your new policy and verify that you are insured under your new carrier. Otherwise, you risk having a lapse in coverage.
Notify your current insurance company that you will be taking out a new policy with a different insurer. Your current company should send you a cancellation notice. You should also send a letter in writing stating that you are canceling your policy. Do this before your next premium is due so that your policy isn't canceled for nonpayment, as this could result in a negative comment on your credit report.
Photo Credits
Comstock Images/Comstock/Getty Images