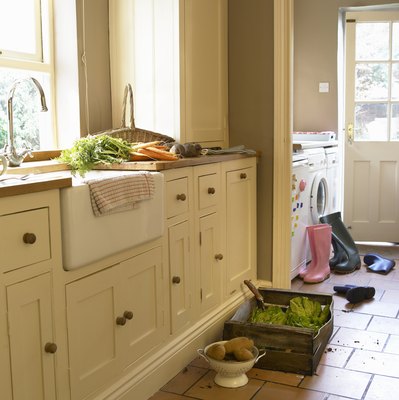 Visions of granite and custom cabinetry hit many people at the mention of a kitchen remodel. If you're like most homeowners, your budget will force you to pick and choose the features you really want in your new kitchen. A kitchen remodel can range from a few thousand dollars to $100,000 or more, according to Costhelper. Finding your comfort zone within that range and cutting back in some areas helps you achieve an ideal culinary work space.
Calculate your remodeling budget for the kitchen before you begin the planning phase. Think about the source of the project funding, whether from your savings account or a loan. Leave room in your budget for unexpected expenses, such as outdated plumbing or bad wiring.
Write or sketch your dream kitchen, including all of the features you would like in the kitchen. Now that the daydreaming is done, decide what you can afford and how you can do other projects at a lower cost. For example, a granite countertop might be your preference, but a manufactured solid-surface countertop is more affordable and many closely resemble granite.
Choose a few more expensive touches, such as a high-end faucet or a decorative range hood, to stand out in the kitchen. Choose less expensive options for other materials. The more expensive features make the overall kitchen look high-end and give you a few of the items from your dream kitchen list so you're more satisfied with the end result.
Walk through the kitchen to decide if anything is reusable. For example, if the tile is in good shape, work it into your new kitchen design.
Refinish or paint your existing kitchen cabinets to cut your kitchen remodeling budget significantly. If the old style is outdated, replace the doors with new ones, which are available individually. Add new hardware to spruce them up even more.
Purchase secondhand or discounted materials for the remodel. Look for a clearance section at your favorite home improvement store, where they might have discounted kitchen appliances, tiles or other materials you can use. Look for a local branch of the Habitat for Humanity ReStore, a nonprofit that sells donated home improvement materials at a lower price.
Perform most of the work yourself if you are comfortable with your home improvement skills. Labor accounts for a large portion of any remodeling budget so anything you can do saves you money. Even if you just handle the demo before the contractors arrive or the cleanup after they leave, you could shave money off of the labor expenses.
Photo Credits
Dougal Waters/Digital Vision/Getty Images