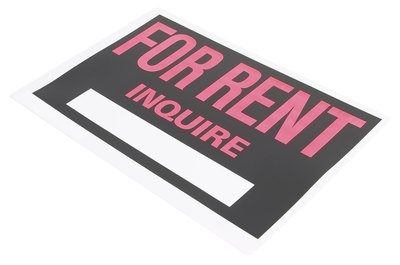 A credit check is a helpful tool for landlords to select trustworthy and financially capable tenants. It can help you screen out individuals who have a history of not honoring their financial obligations. Since it takes time, money and effort to rent and maintain a property, a credit check can also help protect the owner's investment. Before running a credit check make sure you familiarize yourself with state and federal laws on obtaining a credit report and your obligations towards your prospective tenant.
Give your prospective tenant an application. In addition to asking her for personal and financial information, the application should also include language giving you the authority to conduct a credit check. This will help protect you in the event of any lawsuits alleging discrimination. After the prospective tenant has signed the application, have her sign it.
Pay the fee for the credit report. To obtain a credit report, you'll have to pay a credit reporting agency a fee. Some landlords pass have prospective tenants pay the fee at the time of application. Asking for a fee upfront can help weed out tenants who are not serious about renting the property.
Choose whether you want a simple credit report or complete tenant screening. A credit report can show you a prospective tenant's history of debt repayment, but it won't give you a complete picture of the tenant's lifestyle and tendencies. Tenant screening agencies can run criminal background checks, eviction searches and employment verification reviews for an additional fee.
Submit the applicant's information to your chosen credit reporting agency to receive the credit report. Review the information. Some credit reports will provide a credit score, while others require you to review the account entries to determine the creditworthiness of a prospective tenant.
Review questionable items with the applicant. Many credit reports carry negative information that can be easily explained, such as a returned check that has already been taken care of. You might want to discuss this with your prospective tenant, particularly if the rest of the credit report is clean.
Inform the applicant of your decision. If you refuse to rent to someone based on the information in his credit report, the Fair Credit Reporting Act requires you to provide a written notice to that effect. You must include the name, address and phone number of the agency that gave you the information, along with an explanation of the applicant's rights to review the report and dispute the information.
Photo Credits
Hemera Technologies/PhotoObjects.net/Getty Images