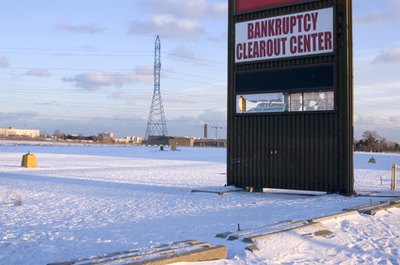 Tax liens are used as an incentive for property owners to pay their back taxes. Property taxes provide funds for city and county governments to provide emergency services such as police and fire. When property taxes are unpaid, the local government sells that debt to investors so they'll have immediate access to the funds needed for budgeting. The property owner then owes the back tax amounts and fines, penalties or interest to the investor. Investing in tax liens is relatively safe, but it can have a few risks as well.
Property Doesn't Exist
Property tax liens are generally for sale at scheduled tax auctions, but some counties also offer them for sale directly, or over the counter, at the county courthouse. Regardless of the sale method, there is a publicly available list of properties that shows available liens for sale. While rare, that list can have mistakes on it. According to Larry B. Loftis, author of "Profit by Investing in Real Estate Tax Liens," it is not unheard of for the list to have an address that doesn't even exist. To avoid this potential risk, always physically visit and inspect any property you are thinking of investing in.
Property is Damaged
When you look at a list of properties that have tax liens for sale, the list shows a general description of the property, improvements that have been made, and the assessed value. Generally that description and assessed value is helpful in determining if you may be interested in the property, but it is unwise to purchase the tax lien based on that description alone. If a wildfire recently destroyed all buildings on the property for example, that may not be updated on the property description list. The only way to know for sure what condition the property is in is to visit it in person before bidding on the tax lien.
Property is Useless
Many properties exist that are completely useless for most purposes. A strip of grass that's 10 feet wide and 400 feet long can be listed as almost one acre in size, but if local building codes or zoning ordinances require a 30-foot easement on all sides then that land could not have anything built on it. Again, personally inspecting any potential property before investing is the best way to avoid this potential problem.
Owners in Bankruptcy
In most parts of the country, a tax lien takes priority position over any other liens on a property, including the mortgage. This means the lien holder can force foreclosure after a certain period of time, and not be obligated to pay off liens in secondary positions. When the property owner declares bankruptcy however, the bankruptcy judge has the authority to reorder lien priorities. This can make it extremely difficult for the tax lien holder to recoup their investment, let alone any additional profits. Many counties attempt to include this information on their property listing sheets, and the safest way to avoid this risk is to not purchase tax liens on properties that are listed as being in the process of bankruptcy.
References
"Profit by Investing in Real Estate Tax Liens"; Larry B. Loftis; 2007