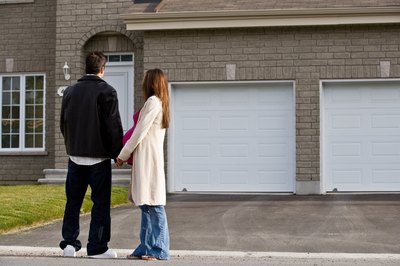 A poor credit score can put you in a bind, but it doesn't have to prevent you from getting into a home. Whether you partied too much in college or made bad financial decisions, banks may consider you too risky for a loan if you have a low credit score and a high level of debt. If you have a solid work history and a current job, renting with the option to own may be the solution you need.
Determine how much home you can afford. When it comes time to buy the property, you'll need to qualify for a mortgage. Banks will use your debt-to-income ratio to determine how much home you can afford. According to FHA requirements, your home should not exceed 29 percent of your income. You should also determine the true cost of the home. Owning a home will add expenses, which can include homeowners insurance, private mortgage insurance, property taxes and homeowner's association fees, to a basic rent payment.
Research current rent-to-own options in the area you want to live. Local real estate professionals, websites, flyers, signs and property management companies can help you find lease-to-own homes. Schedule times to view the properties. Ask the owners to turn on the utilities — it can be difficult to see issues when you don't have access to lights or running water.
Get specific information on the rent-to-own contract. Sellers may structure lease-purchase agreements in one of three ways. They may require a down payment from you at the beginning of the lease, or they may charge you a set monthly amount over your actual rent payment. If they charge you extra, they should set this amount aside so you can use it toward your down payment to buy the house. Sellers may also combine the two options.
Understand the risk involved in a rent-to-own option -- you could lose everything if the deal falls through. If the seller files bankruptcy, sells the property out from under you, takes out a second mortgage or loses the home in foreclosure, you may have no legal recourse against him. Additionally, if you can't secure financing when the rent portion of the lease expires, you lose your down payment and the additional funds you gave the seller; he can evict you.
Inspect the home you are considering; look for signs of disrepair. It's also a good idea to get a third-party inspection. Ensure the land slopes away from the house, inspect the roof for any visible signs of damage and look at the exterior for peeling paint or damaged siding. Inside, check for mold, water damage, cracks and poorly patched walls. You don't want to miss a major problem that will cost hundreds, if not thousands, of dollars. Once you exercise your option to buy, you'll be stuck paying any necessary repairs.
Review the contract and make sure you understand all the fine print. Find out when you will receive the title for the property and evaluate what that time frame will mean for you. Some sellers may keep the title until you pay the mortgage in full. If you have any questions about the lease, it's better to pay an attorney to help you go over the fine print than to lose your investment and your home.
Pay any funds due at signing. You will need to include the down payment and the first month's rent, as required by the seller. Know what type of payment you can make; many sellers will require certified funds. Use the correct name for the funds. Some sellers will use corporate names instead of personal names. Once you make the payment, you should get the keys to your new home.
Photo Credits
Jupiterimages/Photos.com/Getty Images