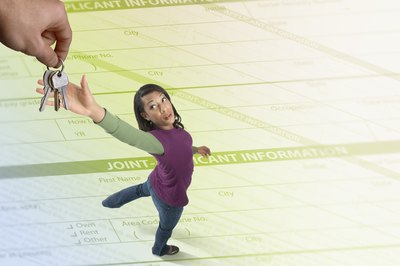 The Federal Housing Administration insures loans made to borrowers with low to moderate income, limited assets and credit challenges. It repays lenders if borrowers default, making it possible for lenders to make loans to otherwise risky borrowers. The FHA's streamline refinance program allows for the removal of one co-borrower when certain requirements are met by the other.
The Basics
To qualify for a streamline refinance, the borrower must experience a net tangible benefit from the transaction. The refinance must serve at least one of two purposes: It must lower the total monthly payment or replace an adjustable interest rate loan. When reducing the payment, which includes principal, interest, taxes, mortgage insurance and homeowners insurance, it must lower it by at least 5 percent. When replacing an adjustable-rate loan, the new fixed interest rate must be no greater than 2 percentage points above the adjustable rate's. A streamline refinance may also benefit the borrower by allowing him to remove an ex-spouse originally listed as a co-borrower on the loan.
Co-borrower Removal
Generally, the streamline refinance can be completed with or without credit qualifying or an appraisal of value. When the refinance involves removal of a co-borrower, however, the lender must review the remaining co-borrower's income, assets and credit. The rules for removing a co-borrower on a streamline are more strict than those for a streamline in which a borrower is added or the original borrowers remain in place. A co-borrower is equally responsible for the loan repayment, and the loan usually is based in part on his income and assets. Although the new loan payment is less than that of the original loan, the lender must ensure that the remaining borrower can afford it.
Process
The borrower must apply for the streamline refinance with a lender approved to participate in FHA insurance programs. The Department of Housing and Urban Development, which oversees the FHA, maintains a database of approved lenders on its website. The remaining borrower must provide evidence of employment, income, assets and a credit report for underwriter review. Acceptable documentation generally includes tax returns and Forms W-2 for the previous two years, recent pay stubs and bank statements. The lender may consider the home's new appraised value if it is higher, allowing the borrower to roll permissible closing costs into the new loan balance. An FHA appraisal report costs about $400 and involves a visual inspection by an FHA-approved appraiser.
Considerations
The lender may require that name of the co-borrower removed from the FHA loan be deleted from the title. This is often accomplished with a quit claim deed or similar security instrument recorded in the jurisdiction in which the home is located. Deletion of a borrower from an FHA loan is often the result of a divorce decree, the assignment of property by will, or the inheritance of property after the death of a borrower.
Resources
Photo Credits
Jupiterimages/Comstock/Getty Images