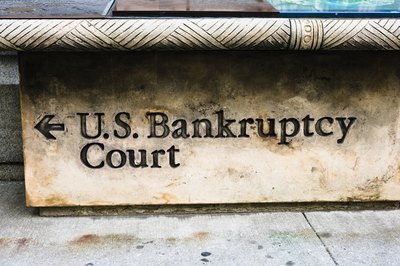 Getting behind on the bills is no fun. If you still receive a regular source of income, but cannot keep up with your payments, you may need to file for Chapter 13 bankruptcy. Most people consider filing for Chapter 13 when they own secured assets, such as homes or cars, they want to protect. The advantage of filing for Chapter 13 means that as long as you catch up with your past due payments over a period of three to five years, you are allowed to keep all of your property.
Keeping Your Home
According to the National Bureau of Economic Research, 96 percent of filers are homeowners who file for Chapter 13 bankruptcy to repay their mortgage. Once you file Chapter 13, you're allowed extra time to repay arrears, the part of the mortgage that has became past due. As long as you also keep up on current payments, Chapter 13 allows you to keep your house while you play catch up.
Saving Your Car
About 57 percent of all debtors listed car loans during their Chapter 13 filing, according to the bureau. Filing for Chapter 13 helps prevent repossession of your car -- an important function if you rely on your vehicle to get to work. Since car financing agreements allow creditors to repossess your car without warning, you would need to pay the full balance due on the loan plus towing and storage to get your car back. But if you file Chapter 13 before things get that far, you keep your car and pay the amount in arrears by following an approved payment schedule.
Too Much Income
If you make too much money to qualify for a Chapter 7 bankruptcy, Chapter 13 may offer a solution. Some people file for Chapter 13 because they have no other options after failing the Chapter 7 means test. The bankruptcy court uses the means test to look at the amount of income you make. If your income is over the threshold, you cannot file for Chapter 7 and must file for a different type of relief -- usually Chapter 13.
Protecting a Co-Signer
If someone co-signed on a loan for you, filing Chapter 13 to repay the debt protects the co-signer under the co-debtor stay. This means the co-signer cannot be approached for repayment of the debt as long as you keep current on the required repayment plan filed under Chapter 13. Certain conditions apply. The debt must be a consumer debt, such as that used for family or personal use, and not a business-related debt.
Photo Credits
Jupiterimages/Photos.com/Getty Images