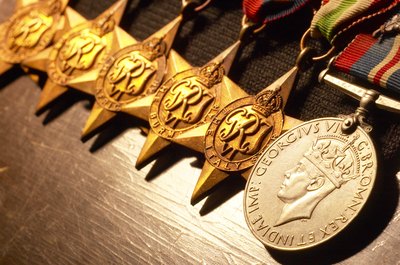 The Department of Veterans Affairs reports that America had 22.7 million veterans as of 2010, a number that will drop as the Vietnam generation ages and dies. If you serve in the military, you may be entitled to a variety of veterans' benefits, provided that you left the service with an honorable discharge.
GI Bill
The Post-9/11 GI Bill pays for 36 months of educational expenses, including tuition, a housing allowance and a stipend for textbooks. You qualify if you put in 90 days of service since Sept. 10, 2001, or if you were honorably discharged with disability after serving for 30 days. You can access the benefits if you're taking graduate or undergraduate studies, licensing programs, correspondence courses or vocational training. If you're not interested, your spouse or kids may be able to go in your place.
Housing Loans
If you qualify for a VA-guaranteed home loan, you get to take out a mortgage with no down payment. The qualifications vary depending on when you served: If your service was after 1990, you must have 24 months of active duty. The exception is if you were called to serve for a shorter period -- at least 90 days -- and then discharged. Reservists and National Guard members with six years of service and an honorable discharge qualify too.
Medical Benefits
The VA helps pay for hospital care, outpatient care and prescriptions for veterans who qualify. If you enlisted after 1980, you need 24 continuous months of active duty to receive veterans' medical benefits, unless you were called up for a shorter time and served the full period. Veterans with a disability discharge or a hardship discharge may qualify even if they fall short of the time limit. If you were in the Reserves or National Guard and your active duty only covered training, you don't qualify.
Retirement
You qualify for a VA pension if you're older than 65, or you're younger but permanently, totally disabled. If you signed up after Sept. 7, 1980, you also need at least 24 months' active military service -- unless you were asked to serve a shorter period -- to qualify, with at least one day of service during a war in most cases. The VA also has financial qualifications. If it rejects you because your finances are too good, you can reapply if your situation changes.
Resources
Photo Credits
Hemera Technologies/AbleStock.com/Getty Images