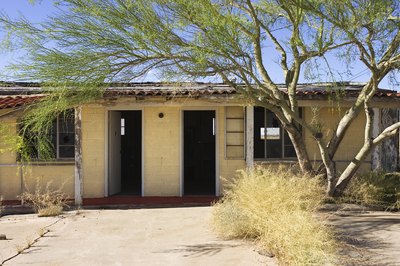 Sheriff's sales are scheduled when property owners fail to make the scheduled mortgage payments to a bank or other lender. The house with property is sold so the bank or lender can recover lost money. In some counties, sheriff's sales are called foreclosure sales or auctions. In many areas, these sales are conducted right at the sheriff's office.
Auction Dates
Contact the county sheriff's office to find the date of the auction. Some larger counties hold auctions on a regular schedule while the auctions are held as needed in smaller counties. Auction dates are usually published in the legal section of local newspapers, and info is often posted directly on the property.
Auction Rules
Prior to the auction, many counties require all potential bidders to register, obtain a bidders number and possibly pay a deposit. The minimum bid for the house is usually the amount owed to the lender plus any county fees.
Homework Required
The houses sold at sheriff's auctions are sold "as is." Rarely are physical inspections of the house and property possible. Information about the house is obtained by driving by the property and conducting a title search. Often a title company is hired to conduct the title search. The title search uncovers information such as existing liens and encumbrances attached to the house. The county assessor's office typically has information about the value of the house and property. The county building department often has information about permits filed for the construction of the house and other structures.
Participation in the Auction
Many sheriff's auctions are held on the front steps of the county court house. They require the bidder to place an oral bid at the live auction. The highest bidder purchases the house as long as the minimum bid is reached. Often the successful bidder must pay for all or part of the purchase immediately after the auction. Therefore, it is necessary to secure the necessary funds prior to the auction. Most counties require cash, certified checks or cashier's checks for payment.
Photo Credits
Thinkstock/Comstock/Getty Images