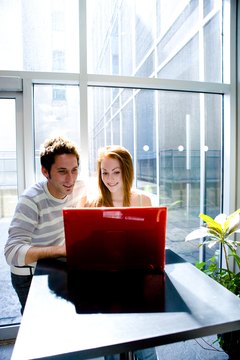 The challenges of buying a home may work your nerves, but a mortgage pre-approval can make the home-buying process easier. First, a pre-approval will include an amount for which you are pre-approved. You can use this figure to make sure the dream homes you tour are really within your reach. Second, getting a mortgage pre-approval will show real estate agents and sellers you mean business and are capable of securing a mortgage. In some cases, sellers may even take your bids more seriously thanks to your mortgage pre-approval.
Make a list of online lenders with good reputations and long lending history. Start with lenders you've heard of and find out if the banks and credit unions you use grant online mortgage pre-approvals. If you are not sure about a lender's reputation, check for complaints and reviews with the Better Business Bureau, Consumer Affairs and SmartHippo. Websites like LendingTree and E-Loan offer quotes from screened, online mortgage companies and are also good for finding lenders with decent reputations.
Size up lenders based on their mortgage loan rates. Visit the websites of the lenders you are considering, and click the link that says "Today's Rates," or something similar, to get the current base rates the lender is offering. Don't get too excited, however, as these rates may not match what you are offered. What they will do is give you an idea of which online mortgage companies are most competitive. Seeking a pre-approval from a lender that offers low interest rates may start the whole mortgage-application deal off on the right foot.
Gather the income and account documents you need for an online pre-approval. Most lenders will provide a document list on their websites, but you'll generally need copies of your last two tax returns, pay stubs and bank statements as well as W2s or 1099s for the last two years. If you have retirement savings and investment accounts, you may need statements for them as well. In addition, you may need documentation of any other income you receive, such as alimony or rental payments, for some lenders. You probably won't need a long list of documents to get an online preapproval, however, because you won't be signing for a loan. Instead, you'll give the lender a basic look at your financial situation and save the serious documenting for when you decide to move forward with securing a mortgage.
Make a list of your assets and debts. Depending on the lender, you may need to fill in asset and debt totals when you apply online. Some may also request copies of deeds, statements and contracts to back up the information you provide. Debt documentation usually comes into play when you are ready to apply for a loan rather than just getting pre-approved.
Check whether the online lender you choose provides secure application submission to stop the wrong person from getting his hands on your details. You should see a little lock or key in your web browser window, usually in a bottom or top corner, if the application page is secure. If the key is broken or the lock is unlocked, the form page is not secure. The website should also provide information about its security on a separate security and privacy policy page.
Complete the pre-approval application process by providing information about you and your spouse or partner, your incomes, jobs and debts. This is where documents like pay stubs and tax returns will come in handy. You'll also have to provide your Social Security numbers and contact information.
Give the lender permission to pull your credit report. The lender will use your credit scores to decide whether it will offer a loan or let you move on to a different lender.
Send any required documentation to the online mortgage lender to finish the pre-approval process. You can usually send copies of the documents by fax or snail mail. A face-to-face meeting isn't usually required for a mortgage pre-approval.
Wait for an answer from the mortgage company. You may get an answer by phone, e-mail or snail mail within one or two weeks of applying. Some lenders will even answer within hours of receiving your application.
Items you will need
Copies of tax returns

Pay stubs

Bank statements

Retirement account statements

Alimony statements or court orders

List of assets and debts

Asset deeds, contracts, or statements
Tips
Check your credit report before you make an attempt at a pre-approval. This way, you can dispute score-lowering errors before you apply.

The major difference between an online lender and a traditional lender is that many online lenders do not maintain brick-and-mortar offices you can easily visit. As long as you choose a lender that has been around for a while and has a good reputation, you're safe going the online route.

You won't have to commit to a lender just because you've received a pre-approval.

A mortgage preapproval is not set in stone. If your situation changes or the information on your application is incorrect, a mortgage lender can refuse to give you a loan or change the interest rate and terms of the loan it offered.

If you're paying a car note, alimony, personal loans or hefty credit card bills, be honest about the amounts. If you leave something out, your pre-approval amount may not be accurate.
Photo Credits
Jupiterimages/Photos.com/Getty Images