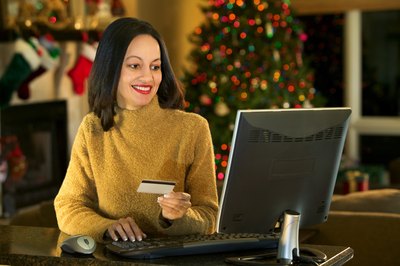 An escrow account holds money in trust pending the completion of a deal. Although the term has traditionally been associated with mortgage tax and insurance payments, consumers and businesses increasingly rely on escrow payments to complete purchases online. If you want to buy goods or services from a vendor you haven't dealt with before, paying money into an escrow account can offer you protection. The funds you pay into an escrow account are released to the seller once you confirm the terms of your deal have been met.
Make sure the escrow service you use isn't a scam. If you're not paying into an escrow account provided by a major bank, be sure you're dealing with a legitimate company before parting with any money. Search for the escrow provider you're thinking of using on the Better Business Bureau's business review pages. Escrow services need to be licensed at state level. If the company you're using doesn't have information about its licensing arrangements on its website, it could be dodgy. Contact any licensing authorities listed on the website of the company you're considering using to verify the site's status.
Establish how much you'll pay to use an escrow service. Some escrow services charge the party sending money, while others levy a fee on sellers. You'll either have to pay a percentage of the transaction processed or a flat fee. Shop around different escrow providers to find the best rate for the type of transaction you want to carry out.
Confirm the terms under which any money you've paid into your escrow account will be paid out. Make sure your funds will only be released once you confirm you're happy with goods or service you've received.
Register for an account with the escrow provider of your choice.
Pay funds into your escrow account along with the required transaction fee. You can make your payment using a credit card or an online cloud payment service with most escrow service providers. Once your payment has cleared, the vendor will be notified and ship your goods.
Items you will need
Debit or credit card

Cloud payment service account
Photo Credits
Thinkstock Images/Comstock/Getty Images