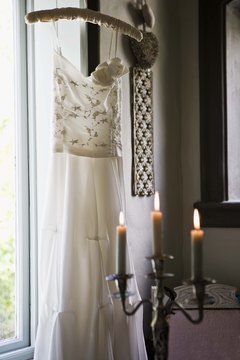 You took the plunge, got hitched, and are finally settling down into the joy of married life. You discover that somehow in the midst of all that excitement however, you've misplaced the official piece of paper that legally declares you're a couple. Your marriage license may be needed to get a mortgage or change your bank account records, but you don't have to renew it once you have it, you just need to keep it in a safe place and not lose it again in the future.
Visit the vital statistics website for the state you were married in. In New York, for example, new marriage licenses are handled by local town or county clerk's offices, but the vital statistics office is where you can get replacement copies of an existing license.
Review the instructions for ordering a new copy of your marriage license. Many states allow you to fill out an online form and submit it with payment instead of visiting the office in person. Blood tests and physical exams are not needed to get a new copy of your marriage license.
Fill out the marriage license replacement request forms and submit them with the required fees. If your local vital records office does not offer online ordering, you or your spouse can visit the office in person to request the new copy.
Photo Credits
Jupiterimages/BananaStock/Getty Images