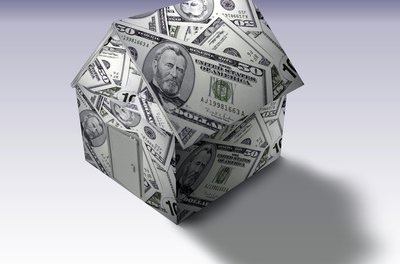 If you're lucky enough to have home equity, your house is worth more than you owe on it. And when your mortgage debt falls below a certain percent — typically 75 to 85 percent — you may want to liquidate some of the equity through a home equity line of credit, or HELOC. This type of loan is essentially a revolving credit account that is secured by your home. You may receive a checkbook that allows you to use as much or as little of your line of credit as you wish. The HELOC is for homeowners who need may need access to cash down the road, but have no immediate need for a loan, according to Barron's Real Estate Handbook.
Determine if a home equity line of credit is right for you. You may want to use a HELOC to pay off high interest rates, make improvements on your home or send your child to college. A line of credit can free up the cash in your home in case of emergency. You can even pull out equity to invest in another property.
Understand the risks involved in obtaining a HELOC. You are obtaining a second mortgage on your home. You could lose your home if you fail to repay the loan with interest, according to the Federal Reserve Board.
Obtain a free copy of your credit report at AnnualCreditReport.com. Scour every account and record to ensure that your credit report does not contain errors that you should address before applying for your HELOC. An excellent credit score will yield lower interest rates and possibly a higher limit to your HELOC.
Hire a qualified home appraiser to re-appraise your home to see if is worth more than your original purchase price.
Call your mortgage lender and find out what rates and programs are available to you. If you don't like the interest rate you are quoted, shop around with other lenders. Read their agreement carefully, understand the interest rate and other costs of involved in obtaining your credit line.
Fill out an application with your preferred lender, and supply the necessary documents to verify your income, such as W2 stubs or tax returns. The lender will tell you what you need to supply in order to successfully obtain a line of credit.
Make an appointment with the lender to sign your mortgage papers. Receive your credit card or checkbook and use your credit line as you need it. If you don't use it, you incur no interest.
Warning
Don't get carried away with your credit line. If you max out your HELOC, you could easily find yourself underwater in a sinking market.
References
Barron's Real Estate Handbook; Jack P. Friedman, Ph.D., et al.
Photo Credits
Jupiterimages/Photos.com/Getty Images