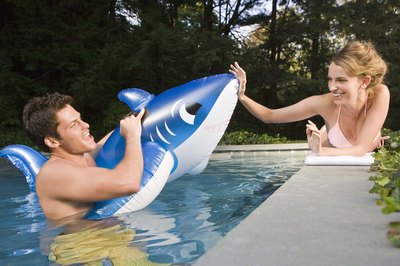 We live in the "consumer beware" age, where unscrupulous lenders, phishing scams and deceptive loan practices abound. If you are looking for an honest, upfront lender, it's a smart decision to do your homework up front and know the rules and regulations of loan practices. The Federal Trade Commission is a good source of consumer information, and knowing which lenders to trust and which to avoid can help you navigate the choppy waters of consumer lending.
Getting the Best Loan for You
Review your credit report and score. This is an important first step, in order to avoid getting taken advantage of. If you're well-informed about what your credit looks like, you can go into any lender's office with your eyes wide open.
Research loan companies and current interest rates. Once you know what your credit situation is like, you can look at different businesses and what kind of rate they'll be willing to give you. Lenders normally have their loan rates posted on their websites, along with the credit score brackets and type of loan you're seeking.
Avoid payday lenders, who do less-than-scrupulous business dealings. These companies make their loans sound like a good deal, but they can actually charge of up 500 percent interest. If you get a loan with this kind of company, you'll end up paying much more interest than you should have to pay. And if your credit is less than perfect, don't be fooled into thinking this is your only option; you might be surprised to find out that your bank or credit union can probably work with you.
Stay away from lenders that guarantee you a loan before you sign on the dotted line. No loan is ever guaranteed, and if you have a promise from a lender that your loan is a good as guaranteed, you're probably dealing with a deceptive organization.
Avoid any businesses that sound very sales-pitchy, or even have "no gimmick loans" in their slogan. Several unsavory businesses take advantage of unsuspecting consumers by closely replicating government seals on their marketing materials, to make the offer look more authentic. This is a very common practice with private student loan companies. Don't let official-looking documents or sweepstakes fool you.
Read the fine print in every loan document you sign. Even with reputable loan companies, it's a good idea to read everything in case the loan officer failed to mention a term or condition of your loan. Things to look for are the interest rate and any other hidden fees.
Photo Credits
Jupiterimages/Comstock/Getty Images