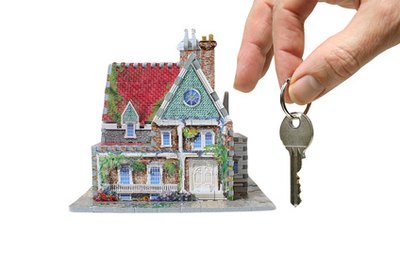 Getting pre-approved for a mortgage can give you a leg up when approaching a seller with an offer. It shows that the lender has verified your credit worthiness and made a provisional loan commitment toward your purchase. It also may help you be more strategic in negotiating your purchase price as you'll have a good idea what you can afford and your interest rate. The pre-approval process can feel time-consuming and tedious; however, gathering your documents ahead of time can help smooth out the application process and get you closer to house hunting.
Your Employment History
You -- and your partner, if applying jointly -- will need to provide copies of your W-2's for the previous two years, as well as a copy of your paycheck stubs for the past 30 days. You will also need to provides names and mailing addresses of all your employers for the past two years. Depending on your lender, you may be asked to provide signed copies of your tax returns for the past two to three years. If you're self-employed, you'll need to provide profit/loss statements and other documentation such as signed tax returns for the last two reporting years -- both personal and business.
Your Financial History
In addition to employment verification, you -- and your co-applicant -- will need to show proof of assets. Be prepared to have three months of bank statements for all accounts including checking, savings, credit unions, mutual funds, retirement funds, securities and car titles. These statements need to include full account names, addresses, account numbers and balances. You lender may also request supporting financial documents, which can include Social Security and disability payments, pension income, child support, alimony, rental property incomes and any dividend earnings.
Your Credit Risk
Calculating your debt to income ratio is an integral component of the loan verification process. It's a good idea to avoid taking on any new credit within six months of the loan application process. A recent major buy or excessive inquiries to your credit can negatively impact your FICO score, a figure that is instrumental in your loan application. According to Myfico.com, a person with a FICO score of 760 or better will pay $205 less per month for a $216,000 30-year, fixed-rate mortgage than a person with a FICO score of 620 – just by qualifying for a lower interest rate. Be prepared to provide the most recent statements for present creditors, including account numbers and balances. These should include credit cards, car loans, student loans and personal loans. If you are currently a mortgage-holder or renter, you'll need to provide loan or landlord documentation, respectively, and possibly proof of payment over a 1-year period.
Other Points to Consider
As if all this was not enough, there may be a few other pieces needed to complete the puzzle. If you're putting cash toward your purchase, the lender will want to know how much and from where it's coming. There are restrictions regarding the source of a down payment, so be sure to ask your lender about this ahead of time. The lender may also want to know if you are purchasing as an investment or if you plan to live in the house. Other documents you may need to provide include divorce or legal separation papers, bankruptcy settlements, foreclosure papers and proof of citizenship if you're not from the United States. The lender may charge an upfront fee to cover the cost of your application and credit reports, but this is generally refunded at closing.