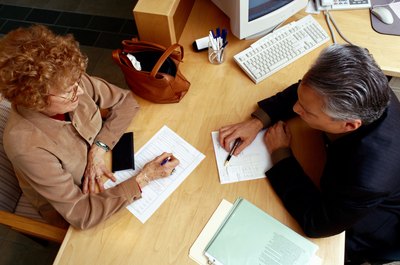 When you open a brokerage account, you can trade thousands of stocks, bonds, funds and other instruments. You can choose from dozens of full-service and discount brokers, all with online trading accounts. With so many choices, it pays to comparison shop and learn what services a broker provides in return for the fees it charges.
Age and Money
Brokers have varying requirements for new clients, but age and money top the list. If you are under 18, you'll need your parents to open a custodial account on your behalf, and they'll bear the legal responsibilities that come with a brokerage account, such as repaying debt. Most, but not all, brokerage accounts require an initial deposit, which can range from $500 to $2,500 or more. Margin accounts usually have larger minimums and are only available to customers a broker considers credit-worthy. A margin account allows you to borrow money to partially pay for stock purchases.
Application
Whether applying online or in person, you'll need to supply basic identification information, including your Social Security number and a W-9 Form allowing the broker to verify the number. You'll also have to provide two forms of ID, including one with a photo, and a signature card. If applying online, you'll have to fax or email some of the required documents. If applying in person, bring your checkbook because you'll have to fork over the minimum deposit. Online applications require you to enter your checking account and bank routing numbers so the broker can grab the minimum deposit from your bank account. When you sign the brokerage agreement, the broker will probably require you to autograph another agreement that provides binding arbitration for settling disputes. This means you can't sue the broker in court.
Margin Accounts
If you want to open a margin account, be prepared to ante up $2,000, because that's the minimum margin requirement allowed by the Financial Industry Regulatory Authority. Your broker may not offer you a margin account if your credit score is too low or your credit report has red flags. You'll have to sign a separate margin agreement that lays out the terms and conditions. Margin increases risk and can require quick deposits of additional cash, so it pays to understand how these accounts work and not feel pressured to open one.
Options
Brokerage accounts are seldom restricted to stock trading. If you decide at some point that you would like to dabble in options trading, your broker will send you a copy of "Characteristics & Risks of Standardized Options" by the Options Clearing Corporation, which brokers consider required reading. You'll then have to apply for an options trading level, which is a number from one to five. The higher the number, the more risks you can take, but also the more experience and money you'll need. You'll have to explain your options knowledge and previous trading experience, as well as disclosing facts about your income and finances.
Individual Retirement Accounts
You can open a self-directed IRA at most brokerage firms. The broker acts as the IRA custodian. A self-directed IRA gives you the ability to invest in just about any asset the Internal Revenue Service allows, but you may need a specialized broker for IRA investments in real estate or precious metals. Applying for an IRA brokerage account requires different forms but is essentially the same process as obtaining a regular brokerage account. The broker will ask you how much tax to withhold when you take money out of your IRA. Some IRA brokerage accounts have small minimum deposits if you agree to make monthly contributions.
Photo Credits
Ryan McVay/Photodisc/Getty Images