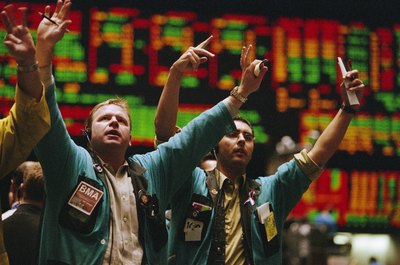 The Nasdaq, an exchange for publicly-traded securities, is popular with technology, high growth and newly listed companies. Because of the growth in value and the volume of listed stocks, it is now a closer rival to the New York Stock Exchange. Occasionally, the Nasdaq threatens some listed companies with delisting for failure to comply with minimum continuing listing standards.
Nasdaq Deficiency Notice
Stocks listed on the Nasdaq that fail to file quarterly, annual or other SEC-mandated reports by the due date may receive a notice of intention to delist. Another major trigger for delisting is the failure of the stock to maintain a minimum closing bid price of $1 for 30 consecutive trading days. Both scenarios will result in the issuance of a deficiency notice to the company.
Initial Grace Period
The Nasdaq does not immediately delist a company for noncompliance. It provides the company with a grace period in which to "cure" -- or eliminate -- the deficiency. The grace period lasts for 180 calendar days after receipt of the deficiency notice. The company's securities remain listed during this time.
Second Grace Period Optional
The Nasdaq may grant a 180-day extension of the initial grace period. In such a case, the stock remains listed throughout the extension. Not all companies qualify for this second grace period.
The market value of publicly-held shares of a company's stock must be at least $1 million. The market value is calculated by multiplying the publicly-held shares -- the total number of shares outstanding minus any shares held by officers, directors, employee stock ownership plans or beneficial owners of 10 percent or more -- by the closing bid price. These companies must have maintained the other nonprice listing requirements.
Conditions for Second Grace Period
Granting of the second extension is not automatic for those that meet the requirements. A noncompliant company must inform the Nasdaq in writing of its intent to cure the deficiency and how it will do so. Companies often announce their intention to perform a reverse stock split in order to return the share price to above $1. A 1-for-2 reverse stock split provides investors with half the number of shares at twice the price. If the Nasdaq believes the company can cure the deficiency during the extension period, it will grant the additional time.
Appeals and Delisting
If a company fails to notify the Nasdaq of its intent to correct the deficiency -- or if the exchange does not believe the company can correct it -- the Nasdaq will deny the extension. The company can appeal a negative decision to the Nasdaq's internal hearing panel. An appeal results in a stay of the listing until the process concludes. If a company opts not to appeal or loses the appeal, the Nasdaq will remove the security from trading and finalize the delisting.
References