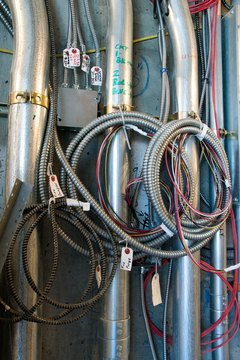 Conduit -- the tubing through which electrical wires are run -- is a common building-material commodity. That means there are lots of companies making it, and not much difference between one manufacturer's product and another's. There are different types and sizes of conduit, and these factors impact price. The price you'll pay also depends a lot on how you buy the conduit, and what other services you might need with it, particularly shipping or delivery.
Rigid Metallic Conduit
Rigid metallic conduit provides the most amount of protection for wiring, and is often required by code for commercial buildings. It is typically made of steel and comes in three thicknesses: electrical metallic tubing (EMT), which is lightest; intermediate metallic conduit (IMC), which has an intermediate weight and is usually galvanized for moisture protection, and galvanized rigid conduit (GRC), which is the heaviest and most expensive. Prices range from about $2 for a 10-foot length of 1/2-inch diameter IMC to about $40 for the same length of 1 1/2-inch GRC.
Flexible Metallic Conduit
Flexible metallic conduit is corrugated so that it can be bent easily around corners and obstructions; it is the type of conduit most used in home construction. It is generally made of aluminum. Prices run from a low of about $15 for 25 feet of 1/2-inch conduit to $80 or more for the same length of 2-inch conduit.
Rigid Nonmetallic Conduit
Rigid nonmetallic conduit is made of PVC, and working with it is similar to working with PVC plumbing pipe. Like plumbing pipe, it comes in two thicknesses: Schedule 40 and Schedule 80 (which is thicker and more resistant to damage). It is colored blue to distinguish it from plumbing pipe. Unlike metallic conduit, it can't be used as a grounding point, so ground wires have to run all the way back to the breaker box for safety. Prices run from about $1 for a 10-foot length of 1/2-inch conduit to just over $3 for 10 feet of 1 1/4-inch conduit.
Flexible Nonmetallic Conduit
Flexible nonmetallic conduit is made of high-durability plastic and is often used for buried exterior cable runs. Like rigid nonmetallic, it cannot be used as a grounding point. The price range for flexible nonmetallic runs from about $9 for a 25-foot length of 1/2-inch conduit to $22 for the same length of 3/4-inch conduit.
Photo Credits
Jupiterimages/Photos.com/Getty Images