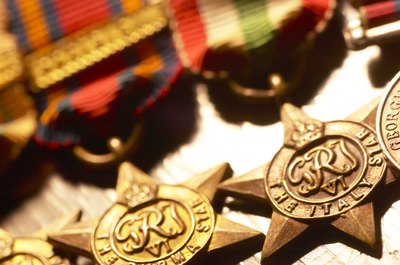 If you're a veterans' widow or widower, you're entitled to survivor benefits. For the most part, the qualifications don't include how long you were married. Remarrying after your spouse dies may be enough to disqualify you, though. If your spouse suffered a dishonorable discharge, that disqualifies her and you for most benefits.
Pension
You can qualify for a survivor pension -- AKA the death pension -- without having been married for a year. However, your spouse must have served a full two years of active duty with at least one day during a war. The biggest requirement is financial: your income must be below levels set by the government. So must your net worth, including bank accounts and investments. You're eligible at any age if you meet the qualifications. Children under 18, disabled or attending college may qualify for an additional payment.
DIC
Dependency and Indemnity Compensation is available if your spouse died from a service-related disability, or in some cases, if he died from another cause while on veterans' disability. DIC pays you a monthly benefit as well as your children if they qualify. Normally you do have to be married for a year to qualify. The exception is if you had a child with him and lived with him continuously until his death. If you lived apart but the separation wasn't your fault you are also eligible for benefits.
Education
The GI Bill pays for veterans' education and also helps survivors go to school. You can qualify if your spouse died from disability or died while receiving disability compensation from the VA. The benefit pays for up to 45 months of education benefits. Some beneficiaries might be eligible for 81 months of GI Bill benefits if they are eligible for more than one education benefit. These benefits cover college educations, certificate programs, apprenticeships and on-the-job training. Correspondence courses are covered as well. The VA can tell you whether the school you want to attend qualifies for your benefits.
Medical
Tricare is the primary medical program providing health and medical care benefits for veterans. You can qualify if you haven't remarried since your spouse died. If you're the veteran's ex-spouse, you may still qualify provided you haven't remarried and aren't covered by your employer's plan. The exact level of benefits and costs depends on which of the various Tricare plans you belong to. Your children may be covered as well.
Resources
Photo Credits
Hemera Technologies/AbleStock.com/Getty Images