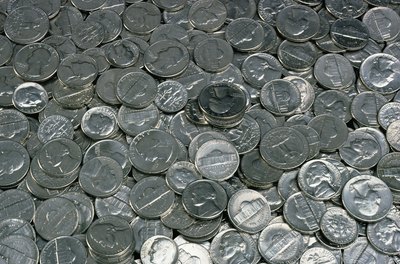 Putting some money aside for a rainy day is great, but even better is having that money working for you while it's tucked safely away. Unfortunately, most savings accounts pay low interest rates ,so you'll be getting only a few pennies on your dollars. To make money on your savings you need to be aggressive with your savings strategy; view your savings as an investment in your future, and take an active interest in helping it to perform at its best.
Shop around for a savings account. Visit different banks to find out the interest rates they charge on their accounts, making sure that you ask whether there are any withdrawal penalties or other restrictions associated with the accounts in case you need to pull money out. Choose the bank that offers you the highest rate on your money without excessive restrictions.
Invest some of the money you want to save into short-term certificates of deposit, again, shopping around to find the banks that offer the best rates. Having some of your money in short-term CDs lets you enjoy a higher interest rate while still giving you access to the money within six months if you need it. When the CDs mature, cash them out and reinvest them in new certificates of deposit.
Put some money into longer-term certificates of deposit as well. CDs that don't mature for one to five years may offer you a higher interest rate and will also earn interest for longer. When the CDs do mature, reinvest the original amount into new longer-term certificates of deposit and put the interest into your savings account or additional short-term CDs.
Purchase savings bonds to create long-term savings investments. Allow the savings bonds to mature for up to 25 years, earning you more money with each year that passes. Though you won't be able to access the money you place in savings bonds as soon as your other savings investments, you will earn a much larger return and will have money when your children are ready for college or you're getting ready to retire.
Continue investing and reinvesting your savings, cashing in CDs when they mature and depositing more money into your savings account. Check savings interest rates and CD rates periodically to make sure that you're still getting the best rate that you can on your account. Open new accounts or transfer your money to a new bank if you find a significantly better deal to keep making as much as you can with your savings.
Photo Credits
Jupiterimages/Photos.com/Getty Images