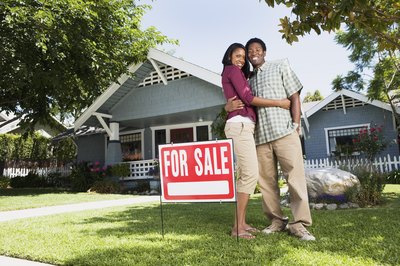 As anyone with a front row seat to recent history can tell you, housing markets have a tendency to fluctuate widely. When the U.S. housing bubble began to burst in 2007, housing suddenly went from a seller's market to a buyer's market. If you are a seller and your place isn't exactly what a buyer wants for the price he wants to pay, he can just move on to the next place. All of which means you have to go the extra mile to spiff up your house before the masses come trampling through. Don't panic, though. You don't necessarily have to make big improvements, unless that makes sense for your particular situation. You just need to pay attention to the details that make your house shine.
Analyze your situation to determine if you really have to sell your place right now. If you can't delay the sale, you might have to take a cut in price, depending on your particular market. The best idea is to research home sales in your area. Find out the sale prices of neighborhing homes that have sold recently. Take the sale price and divide it by the square footage to determine the average price per square foot. Websites such as Zillow.com are useful resources.
Price your place right. According to Trulia.com, homes that sit on the market without selling are likely overpriced. If your neighbor is dropping his price every month or so, it appears like an act of desperation. You'll have the competitive edge if you price it lower at the start. Make sure you don't go too low, however. If homes are selling quickly in your neighborhood, you might not have to worry so much about putting up a rock-bottom price at the beginning.
Invest some time and a few dollars to make your place really shine. Make sure your kitchen is sparkling clean. Reface or paint your cabinets, swap out the faucet, and change your light fixtures. Look into changing mismatched appliance face panels, which can give your kitchen a more cohesive look. Keep the counters clutter-free.
Improve the bathroom by changing the toilet seat, installing a new pedestal sink or swapping out an old, discolored floor with new peel-and stick-tiles for an inexpensive way to freshen up the bath. And a new coat of paint can't hurt.
Kick the clutter to the curb -- or to the dumpster for best results. If you don't feel like tossing out your treasures, pack up your excessive stuff and store it in the garage. Remove some of the furniture to make the place feel more open. A prospective buyer wants to envision your home as hers. Don't overwhelm the buyer with all your belongings.
Clean up your yard. Keep it free from clutter, keep the grass and shrubs neat and well maintained, and spruce things up with flowers for more curb appeal.
Items you will need
Market comps

Cleaning supplies

Paint

New light fixtures

Appliance panels

New bathroom fixtures
Tip
Most real estate experts suggest keeping your yard
Resources
Photo Credits
Jupiterimages/Brand X Pictures/Getty Images