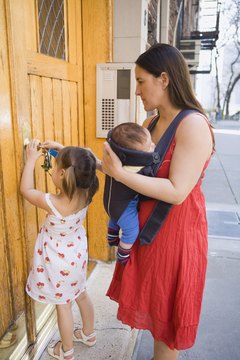 If you're struggling financially in just about any city in the United States, it's likely you can begin to build, or rebuild, your financial footing with a move to an income restricted apartment. Also known as subsidized housing, income restricted apartments exist because the federal government offers tax breaks as incentives to get investors and developers to build housing for low-income tenants.
How It Works
Developers wanting to offer affordable housing can qualify for tax credits from the U.S. Department of Housing and Urban Development. They can sell these credits to banks or corporations that invest and fund the housing development. Because the return on investment comes more from the tax credits than the rentals, the cost to tenants for rents and utilities, which are usually included, remain reasonable for low-income families. To prevent tenants from exploiting the low rent and utility costs, tenants must prove their household incomes every year to stay in their apartments.
Apartment Hunting
Income restricted apartments can be ideal for low-income couples living together in urban areas. You'll qualify as long as you and your significant other, combined, earn less than 50 percent of the median income in the apartment's geographic region. In some cases, depending on the housing owner's arrangement with HUD, your household can earn as much as 60 percent of the region's median income. The apartment owner should be able to tell you the exact dollar amount your household can earn to qualify.
Neighborhood Benefits
Many housing projects are built in ideal locations. Your neighbors might include senior citizens or single parents of limited means who can't afford to pay market rates. Subsidized housing is attractive to couples and families without vehicles, because the housing is typically built along public transportation routes close to shopping, business districts and schools. Larger families find subsidized housing helpful, especially if family breadwinners lose jobs and must find affordable apartments with enough family space.
Possible Problems
Tenants who can't otherwise afford an apartment close to work, shopping or school might find that at some point an employer's raise or an extra job is enough to disqualify them from the housing, but not quite enough to afford them a new place to live. One problem in larger cities is that some apartment projects cannot always match every family with an apartment that meets the family's needs. For example, according to The New York Times, senior citizens in New York City who once lived with kids but now live alone with extra rooms are sometimes pressured to move into smaller apartments to make space for couples and larger families in need. Asking the apartment-building owner or housing project manager about apartment availability is a smart move.
Photo Credits
Creatas Images/Creatas/Getty Images