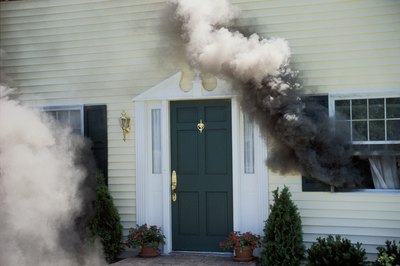 If your home burns, a homeowner insurance policy can protect you from getting burned financially. These policies cover fire and smoke damage to your house and its contents and usually pay living expenses for a while if you have to move out. You'll get paid faster if you know the steps to take with your claim.
Speed
File your claim as fast as possible so you get paid as soon as feasible. If your entire neighborhood burned, speed is even more important: Your insurer will have lots of claims to handle, so try to be close to the head of the queue. If you need immediate cash to replace clothes or college textbooks, for example, ask the insurer for an advance against your eventual settlement. Ask only for what you need, so you have plenty left for repairs or rebuilding.
Documentation
Ideally, you would document everything you own before you need to file a claim. Listing your computer equipment, appliances, clothes and so on and saving the data somewhere outside your home makes the insurance adjuster's work easier and quicker. After the fire, compile a detailed list of what you've lost or the extent of the damage to items. Get appraisals for particularly valuable pieces. Photograph as much as possible -- visuals help prove the damage -- and don't throw any burned possessions away until the adjuster looks them over. If you do have to move out, record your living expenses.
Mitigation
If your house and contents aren't a total loss, protect them against further damage. Board up holes to keep out vandals and squatters. Cover any openings that expose the inside of your house to rain or snow. Move undamaged property to somewhere safe. If your property suffers extra post-fire damage because you didn't protect it, your insurer's not going to cover those losses.
Dealing With Insurers
Talk to the adjuster about how much it will cost to repair your house and replace damaged property. If you think she's low-balling you, pay an independent estimator to give you a second opinion. Ask your state's insurance commissioner how long your insurer has to pay you or challenge your claim and don't let the company forget the deadline. Keep records of phone calls and copies of emails you send them; never send original documents, only copies. When the insurer asks whether you're ready to close the case, give yourself more time: An extra month or two might remind you of losses you overlooked.
Photo Credits
Comstock/Comstock/Getty Images