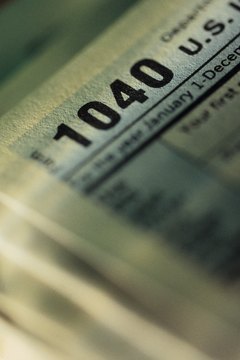 Generally, adults collect Social Security benefits, but a child can also collect benefits if a parent is retired, disabled or deceased. When you file your own income taxes, the obvious scenario is that you have to claim your child's benefits on your own income taxes – but this isn't the case. Generally, a child won't collect enough Social Security benefits to file, but if one-half his benefits, plus any additional income, exceed $25,000, you'll have to file a separate return for your child.
File your own income taxes without the Social Security benefits.
Download Form 1040 and the 1040 instructions from the Internal Revenue Service website. If you don't have access to a printer, request a copy of each form from the IRS by calling (800) TAX-FORM.
Grab the 1040 instructions and fill in the Social Security Benefits Worksheet. The total amount of benefits your child received is located in Box 5 of Form SSA-1099, which you should've received from the Social Security Administration. After you've entered all the information on the worksheet and calculated the total, if the amount on the last line is zero, your child doesn't have to file. If his wages exceeded $5,950 or he collected more than $950 from any other source, he still has to file taxes but he can exclude the benefits from his income.
Enter the child's name, Social Security number and address in the top of Form 1040. Don't check either box in the Exceptions section because you can claim him as a dependent.
Enter any other income your child received in the "Income" section.
Write the total benefits collected in the first field on Form 1040, in the line labeled "Social Security Benefits," if you haven't already. Write the taxable amount in the second field. This amount is the result from the Social Security Benefits worksheet.
Add all of your child's income and enter the sum in the "Total Income" line. Because the child probably won't have adjustments to his income, you can skip this section. Write the child's total income in the line labeled "Adjusted Gross Income."
Grab the 1040 instructions and fill in the "Standard Deduction Worksheet for Dependents." Enter the result in the "Itemized Deductions or Standard Deduction" line on Form 1040.
Subtract his standard deduction amount from his adjusted gross income. Write this amount in the line labeled "Taxable Income."
Use the tax table in the 1040 instructions to find your child's tax. Match the "Single" status with the child's taxable income. Write the tax in the "Tax" line on Form 1040.
Enter your child's income tax withheld, if applicable. You can find this information in Box 2 of Form W-2 if your child had any earned income during the year. Typically, the Social Security Administration doesn't withhold taxes on Social Security benefits.
Subtract the income tax withheld from the tax. Your child owes this amount to the IRS. Mail the tax forms and the payment to the IRS address on the 1040 instructions
Photo Credits
Comstock/Comstock/Getty Images